New CSL… Isn't it too fat? Is the M for Massive? Here's 50-year-old six cylinders arranged in the original 1973 3.0 CSL E9. Feel better? Restored in 2019 (at a cost of around £80k).
Would you believe it, it's only £3k cheaper than the current Monster, has 178bhp but is also 500kg lighter. That's two entire families (four adults and four children) sitting inside a car…
https://www.carandclassic.com/auctions/1973-bmw-30-csl-rhd-8jae74
BMW's E9 platform was pretty hot stuff when it first appeared in 1968. Released initially as the 2800SC, it was truly one of the best-looking coupés of its day, with sharp razor-edge styling placing it at the cutting edge of automobile design. Notably lighter than its predecessor, its combination of a powerful six-cylinder engine with light weight meant it had great potential as a competition car.
In 1971, a bored-out engine transformed it into the BMW 3.0 CS, but the real excitement started in May 1972 when the 3.0 CSL arrived on the scene as a homologation special built to allow the model entry into the European Touring Car Championship. The 'L' stood for leicht (light), because the car had lost an awful lot of weight through the use of thinner steel for the body, aluminium for the panels and Perspex for the side windows, and by shedding a lot of superfluous trim and soundproofing. The engine size was increased a little more, from 2986cc to 3003cc., to get it into the Over Three-Litre class.
A total of 1,265 were built in all, but the 500 exported to Britain are a little more interesting on account of the fact the importer insisted on the 'City Package', retaining soundproofing, electric windows, power steering, rear-window defroster and standard bumpers. It meant the British cars were a little heavier, but the result was a nice marriage of lightness and luxury which you could enjoy using for your day job without looking incongruous.
This car is one of those very rare early British-market CSLs, and it looks absolutely stunning following its recent full restoration. Its unusual original colour of Ceylon Gold looks beautiful in the extreme, and the interior represents the zenith of 1970s German design. We love everything about this car, and we're sure you will, too.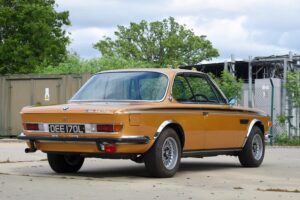 Sold new in Britain and first registered in Grimsby in June 1973
By 1982, the BMW 3.0 CSL was with Mr. Brian Chamberlain in Stokenham, Devon, who lavished care and attention upon it judging by the quantity of invoices he amassed over the next 18 years
The BMW has not been taxed for the road since 1989, although Mr. Chamberlain continued spending money on it, with the invoices running through the 1990s up to 2000
In recent years, Stephen Day of Days Autos in Brentwood, Essex, recovered it from the Devon barn where it had lain for many years and sold it in 2019 'in need of work'
The buyer undertook a full restoration and, that being completed, is now offering it for sale again
Paperwork includes the current V5, a collection of BMW Driver magazines from the 1980s, MoT certificates from 1982 and 2020, a thick collection of German-language workshop diagrams and a colossal assortment of invoices from between 1982 and 2000 which fill up the bulk of the two folders
A photographic record was kept of the restoration and a note on file records that it cost a total of £80,000