The world's #1-selling toy in the world and the leading vehicle franchise that unites and represents all segments of car culture, Hot Wheels, is renewing its UK search for a car that could become a Hot Wheels die-cast model. The 2022 Hot Wheels Legends Tour invites car enthusiasts to put forward their life-size vehicle for the chance to become part of the Hot Wheels line-up.
With a rich and diverse car community, the UK proved it is home to vehicles worthy of 'Legend' status after last year's UK finalist beat global contenders to be immortalised as a die-cast model. The Hot Wheels brand is now eager to find another vehicle that could ultimately become one of the 16 Hot Wheels cars that are sold every second, joining 25,000 other unique Hot Wheels designs that have made car culture accessible to generations of fans of all ages since 1968.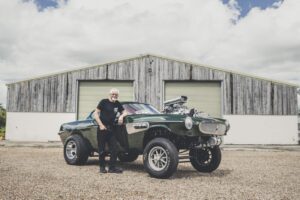 The Hot Wheels design team's quest will be adjudicated by a new UK judging panel featuring presenters and avid car modifiers Helen Stanley (Goblin Works Garage, Motor Pickers) and Jonny Smith (The Late Brake Show). They will be joined by highly influential car designer Ian Callum CBE, design director at CALLUM and the creative behind the Aston Martin Vanquish and DB9, the Jaguar F-PACE and I-PACE, to name just a few. The winner will be announced on Car Throttle's YouTube Channel in early October, with Car Throttle presenter Alex Kersten hosting the judging process.
The panel will be looking for the vehicle in the UK that best embodies Hot Wheels performance, authenticity and 'garage spirit'. To mark five years of the competition that has seen fans enter around the world, the judges will pick both an overall winner and one of the regional finalists for a chance to be produced as die-cast models, doubling the chance of a UK entrant being successful.
"As the Hot Wheels Legends Tour expands around the globe, we have been blown away by the passion, enthusiasm and effort that goes into creating these spectacular cars that fuel popular culture and deserve to be Hot Wheels models," said Ted Wu, Global Head of Vehicle Design at Mattel. "Having seen how fans loved our first winner outside the US, we decided to immortalise a regional winner alongside the overall victor. Two Legends are better than one!"
Entry is quick and easy: simply upload a short video and brief information at www.hotwheelsuklegendstour.co.uk before 31 August 2022.