If you love racing and cars, then you will know all about the legendary Mille Miglia. If you don't, watch jay Leno's brilliant film about the time he took it on with Jaguar Designer Ian Callum in a Jaguar XK120. So it is only appropriate that an iconic road race and tyre company come together.
As a premium tyre brand with a pedigree stretching back to 1909, Vredestein has much in common with the Mille Miglia rally for classic cars. This affinity has now been crowned by a new sponsoring agreement covering the period from 2017 to 2019.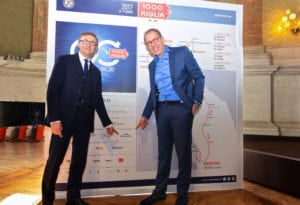 As a premium tyre manufacturer, Vredestein has long had a clear presence in the world of classic tyres. The company's brand includes a strong portfolio of models created with vintage cars in mind, including the Sprint Classic, Snow Classic, Grip Classic and Transport Classic. The Mille Miglia is a prestigious racing event with a distinguished pedigree that is well-known throughout the world of classic cars and beyond.
"Vredestein and Mille Miglia share a rich European heritage and a passion for vintage cars," comments Tanneke Reinders, Apollo Vredestein's marketing director for Europe. "Becoming Official Tyre Partner of the Mille Miglia is a logical extension for Vredestein as a leader in the design and production of classic tyres which combine classic looks with contemporary performance. Vredestein and Mille Miglia are committed to enabling drivers to enjoy the unique sense of freedom that classic cars offer, and this new agreement will allow us both to take further steps in that direction."