Here is something which you may find useful. In association with MotorEasy, we have produced the most comprehensive guide to new car and extended warranties. Not only that, it is all completely free. It contains details of all 51 manufacturers who are selling cars in the current United Kingdom Market.
https://www.freecarmag.com/wp-content/uploads/2023/11/FCM_Warranty_Guide_2024.pdf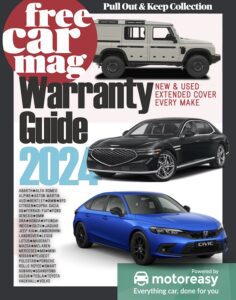 This covers all the important things you will need to know when considering the cover for your next car. Nothing is more important than finding the right car with the best possible cover for your peace of mind.
Just in case you wondered a warranty is essentially an insurance policy, which covers your car against specific mechanical failures. Most new cars have a three-year manufacturer backed warranty. Buying a used car from a main dealer usually means there will be at least 12-month manufacturer guarantee. Cars purchased from independent dealers and car supermarkets may be offered with a warranty package. It is also possible buy your own warranty cover. There are plenty to choose from and some cover more than a simple mechanical failure. You can even get a policy that operates when a car fails its MOT and there are also packages, which cover maintenance and spread any servicing and repair costs over the year. It will suit some drivers perfectly and remove any worries they have about unexpected expenditure.
When choosing a Warranty it is important to read the small print to see exactly what is covered. You may have a claims limit and may even have to contribute to any costs. Indeed high mileage and older bangers may not be eligible for a warranty, usually if they are over a decade old or have covered over 100,000 miles. At the other end of the car market, some sports cars and complicated luxury vehicles may also be specifically excluded. Otherwise a good warranty will cover the engine, fuel and ignition systems, cooling system, electrical system, gearbox, transmission system, steering, suspension and selected clutch and brake system parts but not wear items like the clutch itself or brake pads.
You will pleased to know that the entries will be constantly updated. As soon as we get new information or there are changes to a company scheme we will update right away. This is good because some companies have promised a bit more detail plus we changed the picture of a Dacia for the latest model and the Genesis featured on the cover, is a G90, which is not being sold here at the moment. We may change that but Genesis are perfectly happy for it to be in place. You never know it might come here because it's in the Guide.
It is important that you read the Terms and Conditions T & Cs page which explains the relevance of the questions we have asked.
Thank you to MotorEasy for sponsoring the Guide and are a company which can provide extended cover on all of the 51 Manufacturer brands featured.