José Mourinho stars in a new Jaguar film, celebrating the successful partnership between the two iconic brands. Taking to the streets of Manchester in the Jaguar XJ, Mourinho reveals what it takes to be 'special'.
We love the Manchester United manager and he has featured in several Free Car Mag features over the years.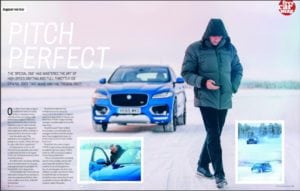 Mourinho said: "Jaguar for me represents passion and performance. It's one thing to play for a club, or to coach a club, another is to play or to coach with passion, and feel the passion, and I think Jaguar's cars are also like this. You feel the passion that they invest into their cars".
Mourinho became one of the first people to drive the F-PACE, the fastest-selling Jaguar ever, ahead of its launch last year. The renowned football manager mastered the art of high speed drifting and full throttle ice driving on a 60km frozen lake at Jaguar Land Rover's extreme testing facility in Arjeplog, Sweden. Away from his love of cars, Mourinho reflected on his life as a manager: "I have got the biggest job in the country, one of the biggest jobs in the world, and a job that I can imagine everyone in the world would like to have, but it's a difficult one."
Following his win against Hull that is taking Mourinho to his fourth EFL Cup Final, he added: "Every minute I have is dedicated to my job, and my career has been rich, beautiful, but I have a big problem, I always want the next one."
As the January transfer window comes to a close, José Mourinho has revealed he isn't critical of players signing for Chinese clubs. Speaking at a Jaguar appearance he said: "I am not a critic of anyone that decides to go to China and change a real football career for an amazing economic situation, it's their choice and their life."
He added: "At this moment in my career what I want is competition at the highest level, and I have to admit that it probably will create some problems for the clubs that want to keep their players."