Free Car Mag love classics and Manor Park's near-unique recipe of operating from its purpose-built Cheshire premises, giving buyers five days of flexible viewing beforehand, and allowing access to the physical sale to online and 'phone bidders proved yet again to be a great success.
And the double-estimate car? A lovely 1991 Volkswagen Scirocco GT II showing just 37,000 miles, and highly original, down to its dealer sticker and embossed registration plates. Expected to reach £7-9,000, this genuine time-warp car found its way to £15,188*.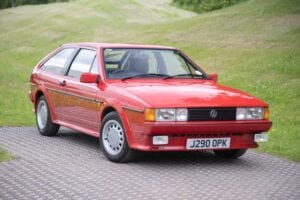 Three other affordable gems from the same era went on to reinforce the growing strength of modern classics. A 1982 Triumph TR7 Convertible with a genuine 13,400 miles was another to double its estimate (£5-7,000) when bidding closed at £14,625. And offering a Teutonic counterpoint to the Brit soft-top was a superb 1984 Volkswagen Golf GTi Cabriolet, showing just 44,000 miles and in the same ownership for 25 years that crossed the block at £18,000 (estimate £9-11,000). But for those after a touch more practicality, a now rare 1988 Ford Sierra 2.8i Ghia 4×4 Estate breached its estimate with a sale price of £11,250.
Two four-wheel-drive rarities also popped up from the 90s. A 1992 Alfa Romeo 33 Permanent 4 and 1990 Citroen BX GTi 4×4 accounted for half of the UK's surviving registered count for both models, selling for a healthy £6,862 and £4,219 respectively.
Those with more generous budgets once again proved that sporting Fords are showing no signs of waning in popularity just yet. A 1992 'Big Turbo' Escort RS Cosworth with 84,000 miles hit its upper estimate at £65,250, while a 1980 Escort RS2000 cleared its upper estimate by £10k when it found a new home for £38,250.
But if you wanted a Blue Oval product with a spot more practicality, a desirable, rare and tidy 1977 Transit Auto Sleeper motorhome showing just 50,000 miles sold for £10,012.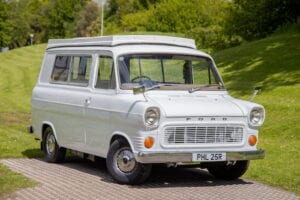 As usual, though, Manor Park's 100 lots provided an eclectic mix of vehicles old and newer. A nicely patinated 1914 Morris Oxford De Luxe Special – one of three veteran/vintage Morrises in the sale – reached £29,531, against an upper estimate of £22k. And at the other end of the scale, a beautiful 1956 AC Aceca – Manor Park's 'poster-boy' for this auction – smashed its upper estimate to sell at £78,750.
But not-so shiny metal proved to be just as appealing in Tuesday's sale. A beleaguered barn-find Bristol Beaufighter from 1983 – one of just 20 built – had been dormant for three decades, and was in need of a full restoration, yet still sold for £10,406. And an original and complete 1973 NSU ro80, in need of recommissioning proved how tempting no-reserve offerings are when the hammer dropped at £9,450.
Finishing off Tuesday's highlights were two diametrically opposed Porsches. From 1959, a magnificently restored 217 Standard Tractor, which sold above estimate for £9,675. And from 1970, a 911E 2.7 RS Evocation that had benefited from a bare metal rebuild, also broke its upper estimate to sell at £59,062.
"Once again, we've had a great response from vendors and buyers alike," said Roger Nowell, Manor Park's Managing Director. "There's a clear sign that cars from the 70s, 80s and 90s are soaring in popularity, and that's reflected in the prices being achieved. But we're a broad church here at Manor Park, and the sheer diversity of ages, conditions and marques at our sales has proved really popular, along with the confidence that we provide for customers through escrowed funds, and transparent, realistic fees and estimates. We're already looking forward to consigning lots for our next sale on November 10!"
A full list of results, please details of MPC's next auction can be found here: https://manorparkclassics.com/
*This sale price and all others referred to includes a buyers' commission.