The next issue of Free Car Mag will be a classic car special. Ahead of that, here is some interesting findings.
Classic Trader, Europe's leading online marketplace for classic cars, has announced that the total value of cars currently on the site has eclipsed 1 billion EUR for the first time in its two-year history. Such is the volume of cars available on offer that Classic Trader is able to offer a view on what are the most popular makes and models in the classic car sphere. With this insight it has published the top ten cars, by number of listings, that currently appear on its site.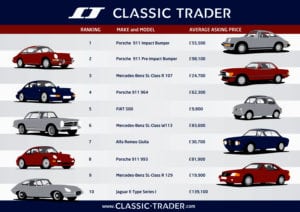 Porsche dominates the listings with four different 911s featured in the top ten, two of which stand at the top of the rankings. The Porsche Impact Bumper 911 is highest on the site, with an average asking price of 65,000 EUR. In second, the Pre-Impact Bumper 911s are listed with an average asking price of 115,000 EUR. Porsche caps off its strong showing with the Porsche 964 and Porsche 993 coming up in fourth and eighth on the list respectively.
Elsewhere in the rankings Mercedes features highly, with three models appearing. The SL-Class R 107 has the third most listings on the site, with an average price of 29,000 EUR. The SL-Class W113 and SL-Class R 129 feature in sixth and ninth respectively.
Making up the rest of the top 10 are the FIAT 500, Alfa Romeo Giulia and Jaguar E-Type Series I. The trading volume of these models represents almost 12 percent of the total trading volume on Classic Trader, resulting in 118,000,000 EUR
Kaspar Kunz, Sales and Country Manager of the UK said:
"In two years, Classic Trader has become the market-leading site for buyers and sellers of classic cars across Europe. In this enviable position, we are able to provide insight to consumers on what models and makes are currently most popular."