I'm going to be making a very special exception in this review. Normally I don't like plug-in hybrids. What's the point? Electric cars must be plugged-in of course, but it's frankly a nuisance. Hybrids should have the advantage of self-charging. So why put up with the hassle of plugging them in too? Dunno.
But the Jaguar F-Pace 400e PHEV mates its 4-cylinder 2.0-litre petrol engine to a 105kW electric motor powered by a 17.1kWh lithium-ion battery pack mounted under the boot. The info you don't care about is that as an EV the F-Pace can reach up to 87mph and travel 33 miles (before you need half an hour to charge the battery back up to 80% again. I mean why even? Well there's a quoted, and completely unrealistic, mpg figure of 130, though emissions are pleasingly slight at just 49g/km.
Here's the stuff that's cool. A combined total of 404bhp and 640Nm of torque from just 1500rpm. There's a top speed of 149mph available and the 0-60mph time is accomplished in a staggering 5.0 seconds. That was the reserve of range-topping 'Super-SUVs' not so long ago, and hot hatches still only dream of those sorts of times.
The F-Pace does have a hot sibling in the form of an SVR that is shockingly powerful. But it will put you in a dilemma about whether you want to pay a premium of over £20k compared to 400e's £56k entry point to slash 1.2 seconds off that acceleration time with an SVR, and kill a forest along the way.
Normally, whatever the on-paper stats, driving a PHEV feels a little lacklustre, and almost as if something's missing, and that soon sorts your dilemma. However with the F-Pace 400e, things are different. There's a real split personality scenario here. Yes, the F-Pace remains the family-friendly luxury Jag SUV, now with updated bumpers and grille, vastly improved interior infotainment with however, in the case of this PHEV, slightly reduced luggage space due to a raised and oddly sloping floor, compromised by the battery-pack.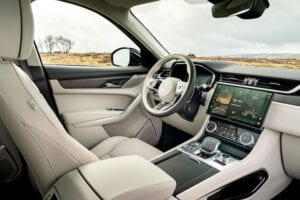 But switch it up into Sports mode, and things get rather extraordinary. The steering weightens, the ride firms up and the throttle becomes highly excitable. That's not all, an artificial engine note awakens, and even as you're aware it's simulated, you're still totally taken in by the sincere growl and arching roar that accompanies… well, quite frankly, thundering performance.
At this point, there's usually a sentence qualifying that statement with a warning not to confuse this with a hard-core 'Super-SUV', but I'll dispense with that here, because this F-Pace goes from posh school-run mummy to sportscar-hunting beast at the click of a button. Admittedly the ride is committed to comfort, and understeer is still prevalent if you push things, but it'll devour motorways and acquit itself with grace and guile on the back roads. It's actually quite brilliant.
But the real dilemma is not should you forgo the SVR for this – that's a monster under threat of extinction, if you're able, I'd implore you to acquire one and enjoy it while you can. The question pertinent to this car, is whether it's the pick of the rest of the range with this eco-aware drivetrain combination. Fret not, the answer is immediately forthcoming: yes it is.
BrownCarGuy.com
YouTube.com/BrownCarGuy
Facebook.com/BrownCarGuy
Instagram.com/ShahzadSheikh
Twitter.com/Shahzad_Sheikh