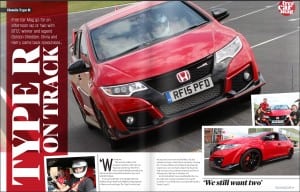 Last year Free Car Mag (Issue 15) met the Honda team and shared some close personal laps with Gordon Shedden and it was awesome. So it is sensational to have the team back, faster and a lot more orange than ever with an extra driver and an even better car.
The wraps came off Halfords Yuasa Racing's 2016 Honda Civic Type R in spectacular style at Donington Park, revealing the car that will bid to retain Honda's drivers' and manufacturers' crowns in the Dunlop MSA British Touring Car Championship.
Halfords Yuasa Racing is hard at work to maintain that victorious form in 2016, and led by a replica of the 2006 title-winning Integra Type R, the three new Civic Type R race cars emerged from the garage to a rapturous reception – in a striking and instantly iconic orange-and-black livery that will set them apart both on and off the circuit over the coming months.
The cars will be piloted by defending BTCC champion Gordon Shedden, three-time title-holder Matt Neal and new recruit Andy Neate. All three are bullish about their prospects.
"I'm feeling good and I'm feeling prepared," affirmed Shedden, "although there's no doubt that the competition will come thick and fast this year. We've had a lot to work through over the winter with the new RML components – it's been a bit like starting again in that respect, but that's part of the fun of developing a new car and everybody's got the same box of bits to play with.
"This season marks ten years since I got my big break in the BTCC with Honda and Team Dynamics in a Halfords-sponsored Integra Type R, with Matt as the reigning champion and me the fresh-faced kid! It's incredible to think that a partnership that was formed back in 2006 is still going so strong today – stronger than ever, in fact – and it's nice to welcome Halfords back into the fold alongside our long-term partner Yuasa.
"This year represents a new challenge, and it is in just such situations that our collective strength as a team truly comes to the fore. If you were to name all the elements that constitute a successful team – from drivers to cars and mechanics to engineers – then I think you'd have to say we tick an awful lot of the boxes."
"It's been a flat-out winter," concurred Neal. "The guys literally haven't stopped. We've been collaborating closely with Neil Brown Engineering on the new engine, which is another big step forward. It's cutting new ground and has massive potential – what it delivers in terms of drivability and mid-range power is phenomenal, and that's very exciting.
"We are well aware that you can never rest on your laurels, and we'll need to work harder than ever to stay ahead of the game. In four of the last five years, a Honda driver has walked away with the championship, so we certainly have a target on our backs for other teams to shoot at. That's the territory that comes with success, though, and there's no other position I'd rather be in.
"It's brilliant to have Halfords back on-board and to have retained Yuasa's equally vital support – and whilst it's been a great journey so far, we're confident the best is yet to come. The cars will certainly look very distinctive, and you know what they say about a car that looks fast…"
Neate joins Shedden and Neal at Halfords Yuasa Racing this season following a two-year absence from the cockpit, and he admits he was blown away by his first taste of the Honda Civic Type R when he tested it in Spain last month.
"It was fantastic to be back behind the wheel," he enthused. "Everybody has welcomed me so openly and really made me feel part of the team at Halfords Yuasa Racing, which has made it easy to settle in. From organisation to attention-to-detail, you can see why Honda are the champions – I don't think there's any team in the paddock that does it better.
"The engineering side has done an absolutely amazing job with the car – the Civic Type R is just immense. The 2016 version is an improvement on last year's model, which was already the BTCC benchmark – and we've only really scratched the surface of its potential so far. That bodes very well indeed for the months ahead."
The first round of the 2016 Dunlop MSA British Touring Car Championship campaign will take place at Brands Hatch Indy in Kent on 2/3 April.