Flying Spares, the world's largest independent supplier of Rolls-Royce and Bentley parts, has added a new premium antifreeze/coolant by PH Components (PHC).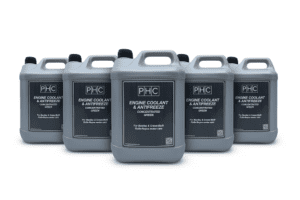 Suitable for all heritage models – every 1946-2009 Crewe-built Rolls-Royce or Bentley vehicle except the modern GT, GTC and Flying Spur – the new 5-litre PHC antifreeze/coolant was developed in response to consumer demand.
Neil Arman, Director of Flying Spares, commented: "Visit any of the popular Rolls-Royce or Bentley online forums and you'll find that engine antifreeze/coolant is the subject of intense debate. PHC is a great British brand known for top quality hard parts, but classic enthusiasts were calling for a new premium antifreeze/coolant, so they partnered with one of Europe's leading aviation solvent suppliers to create one. The new formula is a mix of borate, nitrite and organic acids, with a sophisticated silicate stabilisation system to protect against extreme cold and heat.
"As with our best-selling PHC V8 Bentley Cylinder Head Gasket, we're bringing to market ever more products which are at least as good as the OE at a very competitive price point. We've tested the new PHC antifreeze/coolant extensively, both in our Technical Services Division (TSD) workshop here in Market Bosworth, and out on the road in our Silver Spirit test car. We're confident that it solves the seal degredation issues associated with low grade and incorrect formulas, and will meet the exacting standards of heritage Rolls-Royce and Bentley owners. Like all our PHC products, we back it with a market-leading three-year warranty."
With roots dating back to Hepworth & Grandage, founded in Bradford in 1907, PHC specialises in ISO 9001-certified small batch production exclusively for Flying Spares and Bentley Motors.