The average price of a used petrol car rose by almost 10% (9.4%) during 2017, following the Government's continued demonisation of diesel vehicles. Over the same 12-month period, the average price of a used diesel car fell 5%, according to research conducted by car buying comparison website Motorway.co.uk. There is a lot of references to Qs but stick with it…this is fascinating stuff.
To compile the research, Motorway.co.uk analysed more than 30,000 used diesel and petrol car valuations generated by online car buying websites during 2017, analysing the trends for all makes and models under 5 years old in the UK.
The quarterly figures in Motorway.co.uk's research show the average price of a used diesel car, less than five years old, dropped from £14,339 in Q1 2017 to £13,617 in Q4. This compares with the average price of a used petrol car, which rose from £8,916 in Q1 to £9,754 in Q4 2017.
Motorway.co.uk also analysed diesel and petrol valuation data for individual car makes through 2017. The research revealed significant differences in how used cars for different brands varied across the year.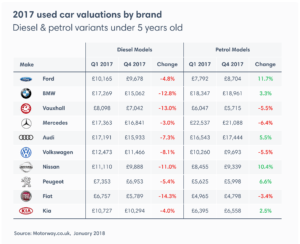 The average price of a used BMW diesel car slumped by more than £2,000 – a drop of 12.8% – from £17,269 in Q1 2017 to £15,062 in Q4 2017. That compares with the average price of a used petrol BMW, which actually increased by 3.3%. Similarly, the average price of a used Ford diesel fell by 4.8% during 2017, while the average price of petrol variants rose by 11.7%.
Looking at the top 10 car makes valued by Motorway.co.uk during 2017, every brand saw diesel variants drop in value between Q1 and Q4. Meanwhile, only 4 out of 10 of the petrol variants saw a price drop over the same period. Two of the makes which saw prices dive for both petrol and diesel variants were Volkswagen, which is still struggling to regain its reputation after the 2015 emissions scandal, and Vauxhall, which has been fighting against a raft of poor UK sales figures.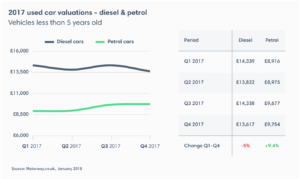 Alex Buttle, director of car buying comparison website Motorway.co.uk, comments:
"Last year was a year to forget for diesel car owners as the Government demonised both old and new diesel cars. Firstly, it introduced an urban toxin tax for older models and then hiked duty on new diesels in the Autumn Budget. This was followed by major car manufacturers announcing their own diesel car scrappage schemes to incentivise car owners to trade in their older, polluting vehicles. All of this negative sentiment in 2017 has had a major impact on the value of used diesel vehicles, as our research clearly shows.
"But it's not all bad news for the auto industry. The used car market has been the beneficiary of faltering new car sales. Motorists are still buying vehicles, but it's clear more are switching to used cars over new. Despite the price falls in diesels, recent SMMT data revealed that used diesel sales were actually buoyant in the third quarter of 2017, up 4.2% on the same period in 2016. As prices fell, bargain hunters were able to pick up nearly-new diesel cars at heavily discounted prices. At the same time, surging demand for cleaner petrol variants has pushed up average prices on popular petrol makes and models.
"This trend could well continue throughout 2018. It would now take a miracle for diesel car values to rise from the ashes and regain their lost ground. And with consumer confidence continuing to be extremely fragile as Brexit draws closer, used cars will be seen as the cheaper option for increasing numbers of debt-sensitive motorists tightening the purse strings."