FRUSTRATED electric vehicle drivers have taken to shaming inconsiderate motorists who block charging spaces with petrol vehicles – and even cops have been caught out.Dozens of pictures uploaded to Facebook show the extent to which UK electric vehicle drivers are blocked from charging their cars by drivers using EV recharging bays as parking spaces.
Among those pictured is a Metropolitan Police van parked across three Tesla supercharger bays at Fleet Services in Hampshire but swanky motors including Mercedes, BMWs and Audis have also been caught out.
Photos posted on the "ICE holes" Facebook group – a play on the abbreviation for internal combustion engine – also show the lengths EV drivers have to go to if they need to recharge, running charger cables over or around other cars.
The problem is compounded as health and safety laws mean many drivers without off-street parking are blocked from recharging their electric vehicles at home because they would need to run cables across the council-owned pavement.
British EV charge point manufacturer Andersen is campaigning to raise awareness of the issue which is preventing many would-be EV drivers to making the switch to electric.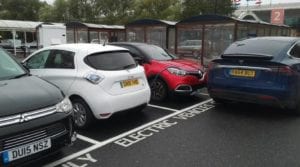 Jerome Faissat, Commercial Director of Andersen said: "Electric Vehicles are the future of motoring in this country.
"But there is still a huge shortfall in the number of public chargers required to serve those who have made the switch so far.
"That problem is made often made worse by petrol and diesel motorists who take up spaces in EV charging bays.
"We're shedding light on this issue because it brings into focus the importance of home charging – which is cheaper and more convenient for motorists
"Andersen's ethos is that vehicle charging should be an easy, smart and digital process.
"If local authorities encouraged home charging, we'd be able to work together to end air pollution and make cleaner communities."
All photos credit: ICEholes Facebook group.