A new study has named the car models that have increased the most on Britain's roads over the last decade, as well as the models that are disappearing.
The motoring experts at Confused.com analysed DVLA data to find the number of each car model licensed in the UK in both 2012 and 2022, to reveal the cars that have increased & decreased the most in popularity.
You can view the full research here: https://www.confused.com/car-insurance/missing-motors
The 10 cars that have seen the biggest increase in popularity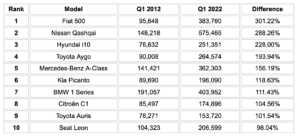 The Fiat 500 is the the car that has increased in popularity the most since 2012. It's numbers have more than quadrupled in the past decade and more models have been introduced, including the all-electric Fiat 500e.
Second on the list is the Nissan Qashqai. It is a compact crossover SUV that launched in 2006, with 2 new versions being released since 2012, the J11 and the J12.
Following is the Hyundai i10, which has seen its numbers increase by 228% since 2012, and is third on the list.
The 10 cars that have seen the biggest decline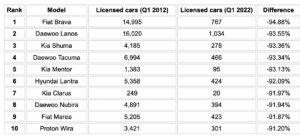 The car that has seen the biggest drop in numbers since 2012 is the Fiat Brava. It is the twin to the Fiat Bravo and is a small 5-door fastback, family car. The last one was produced in 2003. It was pitched as a futuristic car, but this look was actually received negatively by critics, and was later replaced by the Fiat Stilo.
In second is the Daewoo Lanos, which has seen its numbers dwindle by 93.55% over the last decade. The Lanos was a compact car that ceased production in 2002.
Third is the Kia Shuma, another car that ceased production in the early 2000s.
Further study insights:
There are currently 41 different car models in the UK that have just 1 vehicle left licenced in the UK, including the Lamborghini Centenario and Maserati MC12.
Daewoo is the car brand that's disappeared from Britain's roads the most over the last decade, with an 89.58% decrease.