We love watches at Free Car Mag and here is something rather special that we heartily approve of. The best thing to do to find out more is to trot along to Atelier Jalaper's website as there is lots more information right there. And you can buy one…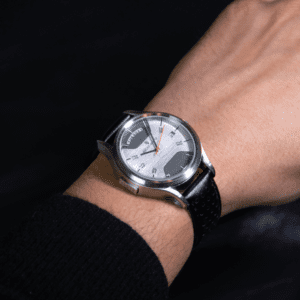 The search for an Aston Martin DB5 bonnet: As one of the most coveted collector's cars, finding spare parts was a challenging but exciting adventure. Louis and Simon eventually found the bonnet they were looking for in a specialised garage in a London suburb.
Transforming a DB5 into 600 unique dials: Several years of research and development enabled Atelier Jalaper to break through the many technical barriers encountered along the way. Demonstrating ultimate technical prowess, Atelier Jalaper's founders were successful in keeping the patina of the bonnet in the production process.