Free Car Mag go out on a limb and buy a car that's gold. Clearly we are ahead of any colour curve as gold does not get a mention in the new research from BCA, the UK and Europe's largest used vehicle marketplace.
BCA reveals how the most popular colours for used cars have changed in the last five years. The analysis of vehicles sold by BCA this year shows black topping the colour chart, accounting for 26% of the total sold and overtaking silver which was the most popular colour for a used car five years ago.
Silver slips from first to second, accounting for 18% of vehicles sold by BCA in 2016, with grey in joint third place with blue, each representing 14% of used cars sold.
White cars have seen the biggest percentage move. Five years ago, white accounted for just 3% of used cars sold by BCA; in 2016 that has jumped to 13.5% of the total, making it the biggest trend shift.
Red cars represent 8.5% of used cars in 2016, a similar percentage to five years ago. Green appears to be less populous, however, falling from 3% five years ago to around 1% in 2016. Other colours appearing in relatively low volumes include brown, beige and orange with less than 1%.
In terms of value, white cars average the highest figure at £9,811, largely as a result of being sold at the lowest average age and mileage combination of 43 months and 43,000 miles. In comparison, black cars average £8,122 when sold, although the mileage and age are significantly higher at 62 months and 58,000 miles.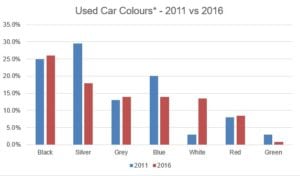 BCA's Head of PR Tim Naylor comments "At BCA we see a good mix of colours across the range of cars being offered, but the critical factor is for the colour to match the car."
He added "While there is always a place for quirky and unusual colour schemes, by and large used car buyers are fairly traditional in their tastes."
Naylor continued "Smaller hatchbacks and city cars look good in bolder, quirkier colours, but Limited Edition colour schemes tend to date relatively quickly. Performance cars carry off bright colours such as Ferrari Rosso Red or Lamborghini Yellow well, and also look good in brilliant white."
"In the upper medium and mini-MPV sectors, most metallic colours sell well, but nothing too garish. In the rugged 4×4 off-road market, buyers often choose utilitarian colours while for larger executive and prestige models, buyers prefer popular colours but in sober shades – metallic black, silver and blue for example. White has been very desirable in recent years, particularly when matched with contrasting black trim."
Naylor concluded "As used car buyers cannot specify the exact colour they want, they choose the best combination of model, specification, age, mileage and condition for their budget and get the most attractive colour they can. Professional buyers know this and will always bid strongly for vehicles that exhibit an appealing combination of specification and colour."
More on the Free Car Mag Kaschmir Gold BMW soon.