Tyreweld – the 'emergency service' in your boot and we couldn't agree more. We just checked the boot of the Free Car Mag Classic BMW 3 Series and found two!
We've all been there, dashing to a meeting last minute, on the school run or heading to the airport when a flat tyre strikes. Getting a flat tyre can be anything from a mild irritation to downright dangerous if you are on the motorway. But try adding to that equation – a dark rainy night, kids in the car or a young, newly passed driver behind the wheel, and you have the stuff of nightmares.
No one can avoid flat tyres, but you can prepare yourself and your family so that when the inevitable strikes, you are only 90 seconds away from a solution. Tyreweld Emergency Car Tyre Repair As you drive, the foam finds and seals the puncture, so you can get off the roadside and to a garage for full repair.
Tyreweld is the hassle free way of getting you back on the road quickly and safely. It won't damage tyres and washes out safely and easily after use. One little can, stashed in the boot can provide massive peace of mind.
We have old cans, here's what it now looks like in the shops.

Frequently asked questions about Tyreweld
How do I used Tyreweld?
Put yourself into the safest possible position before you try to use. Then simply unscrew the cap, attach Tyreweld to the valve and switch on. Move away whilst it fills the tyre, if that is safer and keeps you further from the traffic. After about 90 seconds the can should have filled your tyre, with no need for tools, jack or a spare.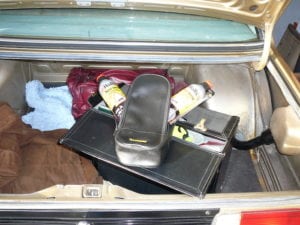 Can I use Tyreweld on a run flat?
No, emergency tyre repair products such as Tyreweld should not be used on a 'run flat'.
A mechanic refused to repair my tyre after using Tyreweld, why is that?
Tyreweld causes no damage and can be easily washed out before repairing the tyre. If your tyre had further damage, the mechanic might advise that it has become unroadworthy. If this is the case, ask for further details.
Will Tyreweld permanently fix my tyre?
No, it is a fast, temporary solution to get you back on the road and to a garage.
What should I do after using Tyreweld?
You need to drive to make sure the foam is distributed around the whole tyre, allowing it to find the puncture. Then visit a garage as soon as you can for a permanent solution.
Where can I buy Tyreweld?
It is available nationwide, at Halfords, Tesco, Asda, Wilko, B&Q and Homebase for RRP £7 for a 400ml can