Around Northwest London, the Toyota GR Yaris is a bit lost, and that's for two reasons. Firstly, because it has to mix it among throngs of regular Yaris models, quite popular in regular flavour in this part of the world; and secondly because it simply doesn't like being on a leash.
<iframe width="560″ height="315″ src="https://www.youtube.com/embed/fSYnsJy4lXE" title="YouTube video player" frameborder="0″ allow="accelerometer; autoplay; clipboard-write; encrypted-media; gyroscope; picture-in-picture" allowfullscreen></iframe>
The GR Yaris (GR stands for Gazoo Racing) is not just a Yaris with a little more power and a bulging body kit grafted on. In fact, it's barely a Yaris at all. Underneath the familiar but entirely bespoke skin is a Franken-platform composed of the front end of a Yaris chassis and the rear bit transplanted from a Corolla. It's 10cm lower too and only comes as a three-door hatch.
Vertical fangs outlining the edges of the front fascia make the little car look angry (I believe it's furious at having to carry a 'Yaris' moniker around) and at the rear there's a race-ready looking diffuser with protruding exhausts that feel more like they want to be flame-throwers than mere tailpipes.
It may only have a three-cylinder engine mated to a manual transmission – if you don't know how to shift gears yourself apply elsewhere – but that motor is a 1.6-litre unit pumping 257bhp and spinning 266lb ft of torque from 3000rpm to the wheels. All this in the epitome of a pocket rocket, results in a standstill to sixty acceleration in 5.5 seconds and a top speed of 143mph, but whatever you read out of those numbers, just know this – it feels faster, a lot faster.
And with fuel consumption of 34.2mpg – thirsty for a small hatchback – and emissions at 186g/km, not to mention a starting price of just over £30,000, this is the most expensive 'Yaris' you ever met. Opt for the range-topping Circuit pack as tested, and you get Michelin Sport tyres, circuit-tuned suspension, front and rear limited slip differential and a bill for £33,500 plus.
Imagine handing over that dosh and people not noticing that this is nothing like the Yaris their Aunty Shaista drives. You and I know what this is, and we can clearly see the sporty stance, the impressive aero and the phat body-kit, but somehow, to un-enlightened eyes, it's just another Yaris.
And that's either really annoying because you want people to know that you own a supercar-baiting street-racer that's been developed by Toyota itself (unlike the Supra and the GR86) and engineered to within a hairsbreadth of perfection. Or you like this car's subtlety and inability to advertise the size of your majesty, because you don't care what other people perceive; your focus is you, your car and driving pleasure.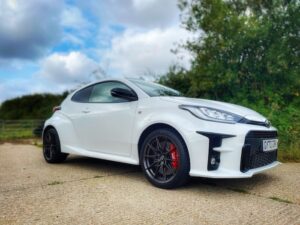 Which again, unfortunately, you're not quite going to get to exploit on the mean streets of Brent blighted with speed bumps, cameras, panda cars, the sheer volume of traffic, and potholes large enough to, if not swallow a Yaris whole, at least do some mean trauma to the 10-spoke 18-inch BBS forged alloy wheels and moneyed Michelins.
It's not happy. It doesn't want to move off in second from rest because it's grumpy all the time. The racy gearbox clunks through its linkages alerting bystanders and making zebra-crossers think twice. The ride feels antsy as it jitters and judders in protest.
At least the sporty bucket seats aren't the usual overkill baltis that leave your back cheeks compressed from peach to strawberry, your thighs sore and your ego bruised at the realisation that you are indeed fat.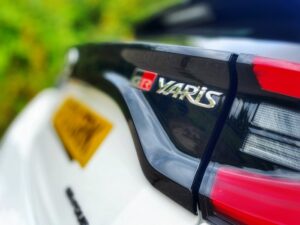 There's plenty of space up front in the already low-slung driving position of its more amenable sibling, and all the switchgear and controls are Yaris-like which is to say straightforward and logical. Except for one knob on the centre console – it's marked Normal, Sport and Track. In the first setting the all-wheel drive transmission is sending 60 percent of the torque to the front, in Sports it sends 70 percent to the back for rear-drive bias and in Track it's 50:50. Play all you like with it, the modes don't feel particularly different from each other in town.
'Hang on matey – when do we get to the part where you admit to liking this?' Right now, dude! Leave London behind, head for quieter, cleaner, twistier, faster tarmac; start ringing this thing's neck, stirring the gear lever, wrenching the wheel and plunging down hard on the right pedal, and Mr Hyde awakens. Actually, it's wrong to liken this car to a Jekyll and Hyde persona, the GR Yaris is more like Dr Jekyll turned into the evil Mr Hyde, who promptly killed the good Doctor; this thing never quite goes back to being just a Yaris.
Out here snatched gearchanges reward, the torque winds up hard, the engine starts to get a little growly, and as for the poise and grip, even in slippery conditions, it's constantly darty and unshakeable. Each corner you do, you go back and try it again, and realise you are still going too slow. The limits are hard to find on public roads, just when you think understeer might be appearing, the GR Yaris seems to pivot around its centre axis and rotate into the direction you desire and scamper away.
Out here you switch through the modes and… well actually you still don't feel that much difference, because it remains grippy throughout, though Sport was my preference. The car is forgiving but fast, exciting when you're near your skills limit, though in most cases (certainly mine) it's still nowhere near its own limit. You can play all day in this thing, as long as you don't go home. The fun ends at home time.
So, the GR Yaris then shout's 'Don't call me a Yaris!!' at anyone that gives it more than a fleeting glance, including its owner. It's a firecracker that never quite settles into a commuter even if it'll do it under protest. You buy this car, not because you want to attract the opposite sex, certainly not because you want to pose, and not as a companion for the daily grind. You buy this car because you live near a rally stage or the Black Mountain Pass. It's brilliant but flawed, and quite mad – both the crazed and crazy form of mad.
BrownCarGuy.com
YouTube.com/BrownCarGuy
Facebook.com/BrownCarGuy
Instagram.com/ShahzadSheikh
Twitter.com/Shahzad_Sheikh