This is the all-new 2022 Suzuki SX4 S-Cross, the third generation of the series, although in reality it's more of a very extensive update and revision of the second-generation model which first arrived in 2013 and was itself updated in 2016. The first-generation model, more widely known as the SX4 was a compact, family hatchback-on-stilts type of thing. If the second gen was more Crossover, the latest car is again a little closer to being an SUV, and closer then to the Vitara on which it is based.
<iframe width="560″ height="315″ src="https://www.youtube.com/embed/G4at5irgy7M" title="YouTube video player" frameborder="0″ allow="accelerometer; autoplay; clipboard-write; encrypted-media; gyroscope; picture-in-picture" allowfullscreen></iframe>
So, is it likely to eat into Vitara sales? Yes, absolutely. Suzuki are not only aware of this, but fully expect it and have upped supply significantly for the car's January 2022 first deliveries. Considering the current shortage of new cars, you're more likely to be able to get a confirmed order on this, than on the Vitara.
Not exactly a hardship, because this has quietly evolved from a pudgy little thing, to quite a handsome, if somewhat boxy family carrier, with a none-descript rear, reasonably elegant side profile, but very distinctly a Suzuki front end, not least because of the big S plonked on its grille. There are no awkward or unresolved lines on this. You can't really dislike it, even if you may not exactly fall in love with it.
Despite similar dimensions to below, there is said to be more space inside, and practicality, but more importantly gadgetry has been upped dramatically. In fact, this is proudly and very overtly, the first Suzuki to have a 360-degree camera view (the centre screen makes you aware of this every time you start it!).
Essentially there is no 'base-model' as such, in recognition of the fact that customers like getting all the kit. There's just two specs available: the Motion with front wheel drive, and the Ultra with four-wheel-drive.
Both are mild hybrids (indeed all Suzuki passenger cars are now only available in some kind of hybrid form, either mild, full or plug-in). It features a 1.4-litre Boosterjet engine with direct injection and combined with the 48-volt mild hybrid system which helps with stop-start and providing extra go to the engine under load.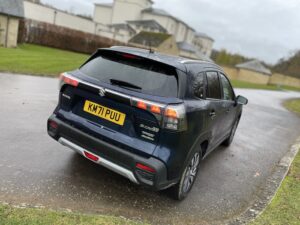 Output equals about 129bhp and there's 235Nm of torque, which doesn't sound like a huge amount but acceleration numbers are reasonable at 9.5 seconds from rest to 62mph for the Motion, but 10.2 for the slightly heavier Ultra, laden with a 4WD drivetrain. Top speed is 129mph and 133mph respectively, with fuel consumption very thrifty providing an impressive 53mpg available. Even on my heavy-footed test drive, it indicated 40mpg plus.
By this point, you're probably wondering, how much these are? A little pricier than you might expect for a Suzuki (although the Toyota-based additions to the range have significantly upped the average prices anyway) with the Motion starting at just under £25k and the Ultra at a little below £30k. Add another £1350 for a 6-speed automatic (as 40% of customers are expected to do), otherwise you get a 6-speed manual. What can you compare this against? Suzuki namechecks cars like the Kia Sportage, Peugeot 3008 and Nissan Qashqai.
About that generous equipment package then. The Motion comes as standard with 17-inch alloy wheels (polished on the Ultra), LED front and rear lights, brake assist, lane-keeping assist, rear cross-traffic alert, traffic sign recognition, blind spot monitor, parking sensors and reversing camera, keyless entry and start, 7-inch infotainment display, Apple Carplay and Android Auto, dual-zone climate control, heated front seats and even adaptive cruise control.
With the Ultra you get, as already mentioned, the 360-degree parking camera view the car will never tire of telling you about, a larger 9-inch centre monitor, panoramic sunroof, navigation and part-leather upholstery.
Open the tailgate and you'll find 430-litres of luggage space, or 665-litres with the rear-seats folded down. Slide into the back and tall people will feel a little confined due to the lower roofline (although the reclining rear seatback will help) and tight knee room if sitting behind equally tall front passengers, in which case you might want to explore the Vitara instead. Conventionally-formed humans (unlike me) might find things a little more acceptable.
Upfront there should not be any such complaints, nor will you find the controls unusual in anyway or presenting any form of difficulty. This is something that admittedly Suzuki does very well – the instant familiarity and ease of use that makes them so appealing. All the controls are immediately intuitive – having said that, the starter button wasn't where I expected it to be – but once you've got it going, there's more pleasures to be found.
The car feels punchier and more eager, especially in Sports mode than the figures suggest. In normal mode it focuses more on two-wheel drive, Sports splits power more equally, Snow is pretty much all-wheel drive for slippery conditions and 'Lock' will work magic with the electronic limited differential to get you out of sticky situations.
On a wet day on winding roads, the added grip in Sports provided confidence, as did the surprising lack of a propensity to go wide. While not being 'sporty' as such, it seemed keen enough to corner with composure and engaging enough that you find yourself nodding in unexpected approval. While the steering maybe a little too light, it's faithful enough.
The gearchange on the manual though, is a delight. Precise, smooth, inviting and enjoyable. Third and fourth are best to have fun in, fifth is okay, but sixth feels like a cruising gear best left for the motorways. You can just about heel-and-toe with practice if you're inclined to such antics and it stops in a linear and reassuring manner too.
Overall then, aside from the slightly tight rear cabin and possibly dearer price tag than you might have thought, there's very little to dislike about this car, and plenty to appreciate and approve of, to the point that it's easy to talk yourself into getting one, and you wouldn't entirely be wrong to do so.
BrownCarGuy.com
YouTube.com/BrownCarGuy
Facebook.com/BrownCarGuy
Instagram.com/ShahzadSheikh
Twitter.com/Shahzad_Sheikh