The question we get asked at Free Car Mag quite often is just what should we be packing in our boot at this time of the year. Well, here is your expert answer.
Richard Hitchman, Product development manager at Holt Lloyd, has put together his top five car boot essentials to keep you safe while driving, making sure that when problems do crop up, you have the right knowledge and products on hand to be back on the road in no time.
Richard says: "I've always got a mini 'road-survival pack' in my car. This includes a number of key car care products as well non-perishable snacks, drinking water and a good old fashioned UK road map for when technology lets you down! I would also always recommend AA or RAC membership, even if you know your way around an engine.
"I personally also keep a 12v phone charger, a first aid kit, some spare oil, 1L RTU Prestone coolant, a blanket, some spare fuses and bulbs, a few basic tools, a head torch, and some microfiber cloths in case I get messy during a fix situation. I do nearly 40k miles a year so this stuff often gets me out of trouble.
"I also make weekly checks on tyre pressure, oil level, coolant level, brake fluid, screenwash to try and spot any problems before they turn into emergency situations.
1.Tyreweld

Always carry a can Tyreweld Emergency Car Tyre Repair, that way if you do get caught out with a puncture, you can safely be back on the road in minutes. Tyreweld is quick and easy to use in an emergency; instantly re-inflating and repairing a tyre so it can be driven home safely before being taken to a garage for a full
repair or replacement. Unlike some of our competitors, and contrary to what some garages will tell you, Tyreweld does not damage your tyres. After using Tyreweld, the puncture can be repaired according to the British standard BS AU159:f, providing the puncture isn't in the sidewall. This is exactly what we do in our UK laboratories on a regular basis when we're conducting testing.
It's also the only product on the market to have our unique twist and go actuator so you don't have to wait around in the danger zone at the side of the road while the product is transferring into the tyre.
2. De-Icer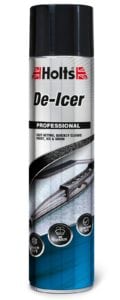 De-icer is another must, I keep it in the car year round but it's obviously especially important at this time of year. The alternative can be a very cold, unpleasant morning looking for a trusty credit card or old CD cover to scrape the windscreen, which will end up in scratching your windscreen sooner or later. Add a car full of kids now running late for school to the mix and you'll soon wish you'd packed the de-icer!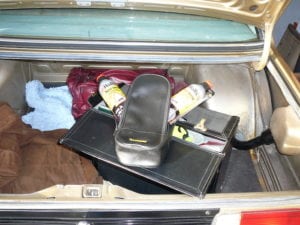 3. Pre-packed emergency car kit
There are dozens of brands and different sized options, and many new cars come with the essentials that you might need. But if you have an older car, or you are driving long distances make sure you have all the basics in one easy to store kit. You never know when you might need it. This should include a high visibility vest, warning triangle, wind up torch, first aid kit and a spare jumper or blanket, just in case.
4. Screen wash
Screen wash is so important in winter particularly when the sun is low in the sky causing dirt on your windscreen to dazzle you while driving. Prestone has expanded its range to include a screen wash that works to achieve maximum visibility for drivers throughout the winter, whatever the conditions. The ready to use winter screen wash melts ice down to -10 degrees C and includes active cleaning detergents which quickly remove any stubborn traffic dirt and salt that can accumulate on your windscreen. This is something I always have on hand in my car. It's so important to have a clean, streak-free windscreen in throughout the year but especially in the winter.
Prestone range also offers a concentrated version which has received Auto Express Best Buy award status and melts ice down to an incredible -23 degrees celsius, more than enough for any UK winter.
5. Coolant/Anti-freeze
Again, you should keep an eye on levels, as a sudden drop suggests a potential problem with your engine. If your coolant/antifreeze needs topping up or even replacing completely, it can be difficult to know which colour or type to use. Mixing coolants which aren't compatible, or using the wrong one for your car, can cause clogging and severe damage.
Prestone coolant/antifreeze is developed using engineered technology and has been tested in the most challenging conditions including the Sahara, so we know that it performs from -37ᵒC to 129ᵒC. It will protect your engine cooling system for 10 years or 150,000 miles so you don't need to worry about corrosion, freezing or overheating.
What's great about having this in your car is that it's compatible with any vehicle and you don't need to worry about mixing it with other products. Having it on hand will give you the peace of mind you need to know your car is running at its best in the winter months.
Have you got your own emergency kit? Then please send us a picture and some details we would love to know more.