Free Car Mag were at the launch of the new Aston Martin Vantage and the racing GTE. They also debuted a groovy film by Rankin.
To introduce the new Vantage, Rankin brings his talents to a classic tale of rivalry, a portrait of a car born on the track, shaped through racing and a formidable performance heritage. It is also a story of pure driving pleasure and a challenging portrayal of true automotive beauty, a car that is as beautiful in motion as it is at rest. The images and film are a dramatic creative vision, born out of Rankin's bold and fearless approach. 'My ambition is to create film and stills that make the hairs on your neck stand up,' says Rankin, 'it's about high intensity, maximum impact – imagery that gets your pulse racing with the urgency of the V8 engine at full throttle.'
There was a media crush and we were at the front.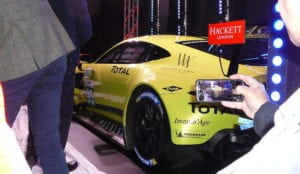 Here you can see the Aston Martin Racing revealed the new Vantage GTE: the spectacular new FIA World Endurance Championship challenger poised to replace the team's most successful competition car of all-time, the multiple Le Mans-winning V8 Vantage GTE.
As for the standard road car at the heart of the new Vantage is Aston Martin's potent new alloy, 4-litre twin-turbo V8 engine. Set low and as far back in the chassis as possible for optimal centre-of-gravity and perfect 50:50 weight distribution, this high performance, high efficiency engine returns a CO2 figure of *245g/km yet develops 510PS at 6000rpm and 685Nm from 2000-5000rpm. With a dry weight of 1530kg this gives the Vantage formidable power-to-weight and torque-to-weight ratios – something vividly demonstrated whenever the throttle is squeezed. Detailed tuning of the induction, exhaust and engine management systems has given the Vantage a truly intoxicating character and soundtrack.