Sunday August 28th 2022 saw nearly 30 Rover 200 Coupés converge on the UTAC Millbrook Proving Ground, Bedfordshire for a celebration of the car's record-breaking runs there 30 years ago.
The event, organised jointly by the Rover 200&400- and Rover Coupé- Owners Clubs, was for Coupé owners who had the chance to drive on the high-speed bowl where the records were broken, this time at more sedate speeds.
It was also attended by a dozen ex-Rover Group staff, members of the 'Tomcat Affair' team in 1992 who were able to take passenger rides in the road cars with the owners. One of the two original cars, owned for the last 20 years by Peter Collins and recommissioned for the event, led the road cars around the high-speed bowl and the Hill Route.
The cars present looked fantastic, with all the owners excited by what they'd been able to do.
Following the recreation of the launch of the R8 Rover 200 at the original venue, Lucknam Park, in 2019, who knows what these clubs will do next!
As a result of ticket and t-shirt sales, the clubs will shortly be making a donation to BEN, the charity for employees in the automotive industry.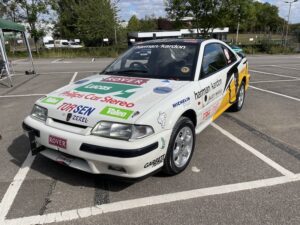 Background
The Rover 200 Coupé, the fourth derivative of the R8 platform, was launched at the Paris Motor Show in October 1992 so the record breaking added to the allure of this new 150mph sports coupé.
The Coupé had been codenamed 'Tomcat' during its development so the title of this event was a nod to it, despite the Rover Marketing team wanting only to refer to the production Coupé's name.
In 1992, a team of volunteers from Rover Group, including drivers, engineers and logistics experts, took two near-standard, ex-prototype cars to Millbrook and broke 37 UK Land Speed Records, 36 of which still stand today. These include 156.00mph for the flying 5km distance and 138.43mph for the 24 hours, from a standing start. They covered 3,322 miles in that time, which was further than the winning Le Mans car that year.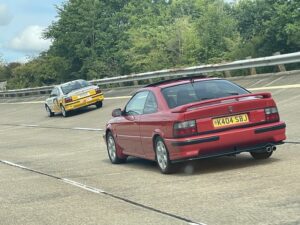 Thanks to
The Rover 200&400 -and the Rover Coupé- Owners Clubs would like to thank all the staff at UTAC Millbrook for making this fantastic day possible and to Etisan, Turkey for sponsoring the event."