Here is Phil Carruthers Chemist at Simoniz, just one of the scientists helping to protect your car this winter.
Washing your car in the winter months can seem like a fool's errand! Who hasn't experienced the feeling of seeing the rain pour onto a just-cleaned car? Despite this, keeping your car clean and free from salt and mud is crucial to avoid paint damage and serious wear and tear. The extra rain, snow, sleet, dirt and grit could cause corrosion to the paint and undercarriage, impacting on its retail value.
For over 100 years, Simoniz has been developing award-winning, best-selling ranges of products to clean, protect and restore your car. Phil Carruthers Chemist at Simoniz, offers advice on how best to treat your car this winter:
"Before winter kicks in, be sure to use Simoniz Original Wax – our classic wax which has been trusted for decades. The wax has won numerous awards over the years, including receiving four stars in the best car wax category of this year's Auto Express product awards.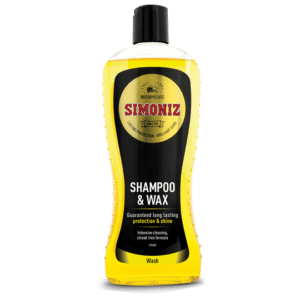 "The wax provides a deeper, longer lasting wax finish thanks to its carnauba, which will protect your paintwork from the worst that winter will throw at you. Take some time to apply and your car will be protected for up to 12 months, helping to prevent further damage.
"Simoniz Shampoo & Wax is a dual car shampoo which offers superior deep cleaning, removing dirt quickly. Ideal if you are out in the cold It's streak-free formula not only removes tough dirt, but also gives shine guarantee.
"Keeping glass clean and clear is a real safety issue – glare can be a massive problem in the winter, due to the low sunlight, poor visibility and more night driving. Try Mixra Glass Cleaner, our specialised glass and headlight cleaning product. Its foam action guarantees a streak-free finish and guaranteed high visibility. Between washes, Simoniz Anti-Glare Glass Wipes are a very handy product to keep in your glove box. They provide a quick and convenient way to clean your windows and mirrors of dirty marks, guarding against that dreaded glare and leaving a smear free finish.
"Simoniz Upholstery and Carpet Cleaner is another winter essential. Dirty, muddy, wet shoes and clothes mean that the inside of your car can take a real battering. If you have kids or pets, the problem will soon get out of hand. This cleaner is specially developed for your interior fabrics and is guaranteed to remove stains quickly thanks to the helpful deep cleaning brush.Guaranteed to remove stains and odors and restore that 'new car' fragrance.
"So, although you might not want to keep your Saturday morning car wash routine going all winter, it is well worth being prepared before the winter kicks in."
Find more details at https://www.holtsauto.com/simoniz/