The good news is that we are now getting some better looking self driving cars. Free Car Mag is still a bit wary of the whole trend, but Jaguar Land Rover have a better chance of convincing us that this might at least be a cool thing to be part of.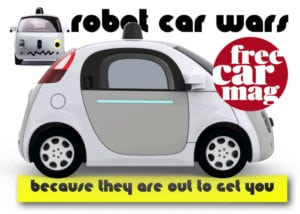 As part of the £20m UK Autodrive project, Jaguar Land Rover is testing a range of research technologies that will allow cars to talk to each other as well as roadside infrastructure, such as traffic lights on the roads of Coventry. The trials will explore how future connected and autonomous vehicles can replicate human behaviour and reactions when driving.
Jaguar Land Rover is developing both fully and semi-autonomous vehicle technologies to offer customers a choice of an engaged or autonomous drive, while maintaining an enjoyable and safe driving experience. The company's vision is to make the self-driving car viable in the widest range of real-life, on- and off-road driving environments and weather.
Nick Rogers, Executive Director – Product Engineering, Jaguar Land Rover commented, "Testing this self-driving project on public roads is so exciting, as the complexity of the environment allows us to find robust ways to increase road safety in the future. By using inputs from multiple sensors, and finding intelligent ways to process this data, we are gaining accurate technical insight to pioneer the automotive application of these technologies.
Jaguar Land Rover is proud to be a leader in collaborative research projects for autonomous and connected cars. We are supporting innovative research that will be integral to the infrastructure, technology and legal landscape needed to make intelligent, self-driving vehicles a reality within the next decade."
With the launch of the trials, Coventry joins just 12 other cities in conducting tests on public roads globally.
UK Autodrive is the largest of three consortia launched to support the introduction of self-driving vehicles into the UK. It is helping to establish the UK as a global hub for research, development and integration of automated and connected vehicles into society. The consortium has already proven these research technologies in a closed track environment and the start of real-world testing is the next step to turning the research into reality. The trials will continue into 2018.