Here is the sort of brilliantly silly stunts that Free Car Mag love…
Santa's Reindeer emit 40,600 tonnes of greenhouse gas during their worldwide Christmas Eve trip
Santa is test driving an electric Renault Zoe sleigh this year to calculate how far he can get and how many gifts he can deliver on one charge
Tweet #SantaGoesElectric to help him move around your city and win a free Christmas gift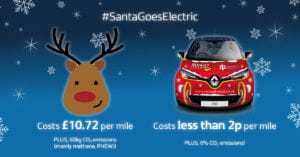 Santa wants to test how far he can get delivering gifts around four UK cities on one electric charge per day so that he won't get 'range anxiety' this Christmas Eve – and he needs your help!
He will be in London on 4 December, Cardiff on 5 December, Cannock on 6 December and Manchester 7 December – tweet him when he is in your town to decide his route and win a hand-delivered gift.
Live details of his four day test-drive and a video of Santa buying his Renault Zoe sleigh are here:
https://www.renaultretail.co.uk/about-us/santa-goes-electric-in-a-new-renault-zoe/
He has 1,000 boxes of Montezuma's Christmas chocolate to give away to anyone who tweets #SantaGoesElectric to @RenaultRetailUK.