Right at the top of this review let's state something that maybe obvious to you, the 720S, launched about four years ago, is pretty awesome. It marks the point at which McLaren got good at making this genre of automobile. Really good. And it still shows today. Though that wasn't necessarily obvious to me.
You see McLaren's opening gambit at a poker table shared with Ferrari and Lamborghini was a bit of a bluff. It's 2011 entry to the junior supercar market had all the right ingredients: Formula 1-shared tech know-how, lightweight carbon fibre composite chassis, bespoke infotainment, and a twin-turbo 3.8-litre V8.
However, the MP4-12C had the name of a microwave oven (wisely later shortened to just 12C), unimaginative by-the-book supercar styling and the build quality of an Airfix model. Its biggest mistake was, well, being a little too clinical and rather bland – something of a sin among cars that typically star in boys' bedroom posters.
By the time it was replaced with the 650S in 2014 it was already looking a lot more interesting and had debuted some of the design language that would become McLaren's signature style till today. Yet, to the informed it was still really just an extensive makeover and remained unsatisfying.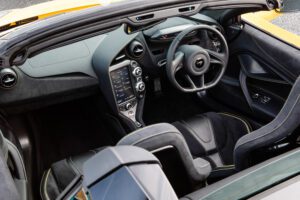 It's replacement the 720S on the other hand was 91 percent new, with a larger 4.0-litre version of the twin-turbo V8 now putting out 710bhp (or 720PS – as per its name) which gave it… actually before we get into the numbers, let's just pause, step back and behold that sinewy flowing form.
From the unique light blades channelling air to small radiators, the dome-shaped race-car glazing, the way the muscular form curves along the sides, twists and embraces the passenger cell, unravelling at the back to an open rear that houses twin exhausts at thigh-level, framed by a spoiler that acts as an aerofoil or flaps as called upon.
That's before we get to the scissor doors and transparent flying buttresses at the back on the Spider model, which itself has a power folding roof that tucks itself away in 11 seconds at speeds of up to 31mph.
Now that we're back to numbers and the supercar shape has properly taken your breath away, let's talk performance. There's 770Nm of torque in addition to the aforementioned bhp, mated to a 7-speed dual clutch auto driving the rear wheels, catapulting this car from rest to 62mph in just 2.9 seconds, hitting 186mph in 22.4 seconds and maxing out at 212mph. Combined fuel consumption is a not tenable 23.2mpg and CO2 emissions are 276g/km.
The side sill is lower to make it slightly easier to swing your legs over, but as with any low-slung supercar it requires a little dexterity to get in and out, but once you're in, it's remarkably comfortable. The instrument panel has a trick that transforms it from 'let's get serious' race-car display to road-going full instrumentation. Buttons control the transmission, and two knobs control the settings for the drivetrain and suspension once armed.
Sadly, I didn't get to drive this on public roads, but we drove it on a winding simulated road course at the Millbrook proving ground and were able to do a flat-out straight line drag run – though in extreme cold and icy conditions. We had wheelspin pretty much with every gear change up to 120mph. Having said that, it remained startling quick and tracked completely straight, so it wasn't as terrifying as you might be thinking.
Likewise, hard on the brakes at the end of the run, and the 720S kept pointing unwaveringly ahead, while you hung from the seatbelts, winded by the deceleration – especially when the air brake flips up at the back.
Around the road course it felt quick, ferocious even. At the wheel there is a heft and substance, you do feel like you're taming a beast. Even so, it draws you in, and you start to get confident with it fairly quickly. While I could feel the traction and stability systems firing in these treacherous conditions as you lay down the dollop of torque mid-corner, it remained engaging and manageable.
While undoubtedly a racy thing, its suspension feels compliant, for a far more comfortable ride than say a McLaren 620R for example. It would be good to try this on public roads and in town, because it does feel as if could be usable daily driver, where you get to experience the genuine supercar feel and captivating style.
The fact that there's some involvement in the drive and sex appeal in its stance, means that McLaren has addressed the biggest issue of their original offering, that old 12C. That first offering seemed devoid of personality, the 720S though is not a car you'll forget so easily. And once you've sampled one, you'll want it. If you're lucky enough to be able to afford one, you should definitely get a 720S.
BrownCarGuy.com
YouTube.com/BrownCarGuy
Facebook.com/BrownCarGuy
Instagram.com/ShahzadSheikh
Twitter.com/Shahzad_Sheikh