This could easily be a very short review indeed. And this is because the BMW M4 Competition Convertible M xDrive could arguably be a perfect car for most people. And I can end this discourse right here. But let's expound a little.
Before we break it down, let's just clarify that the M3 (which we traditionally knew as the most desirable Beemer in the 3 Series segment) is the four-door version and the M4 is the two-door.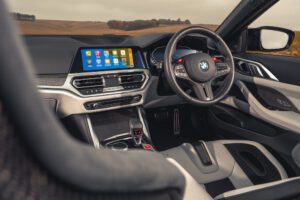 The car tested is not only a convertible version of that, but also has all-wheel drive (xDrive) for superior road grip, and the Competition is the even more performance-orientated version of the performance car – though in the UK, it's only available in Competition guise, and with AWD (though it can be set to rear-wheel drive). The coupe version costs about £77k and this one is just over £83k.
Does it look the part? Oh God yes. Especially in the Portimao Blue (a standard colour) and with the roof down, a powered operation that only takes 18 seconds and can be done on the go at speeds of up to 30mph. It's got a perfect stance, looks sleek but muscular, and handsome in profile particularly with the roof down.
At the front, there's a more aggressive treatment for the spoiler and side intakes, and then there's that grille. A stumbling point for many, the reality is that most people have already grown used to BMW's new style tall grilles, and the placement of the numberplate in the UK right across the middle, seems to make them instantly more conventional anyway. Besides, if you really are struggling with it, remember, you can't see it from inside.
The optional M Sport extreme carbon bucket seats fitted to the car test, also look dramatic and purposeful, but are not the easiest to get in and out of, due to the high reaching and stiff side bolsters designed to clamp your backside in place during high-speed cornering.
Since most people that own an M4 convertible are unlikely to be taking it on a track, and might have an ample rear equal to and perhaps even exceeding my own, I'd suggest sticking with the regular seats and optioning the air-scarf heating allowing open air motoring in even colder temperatures.
Other than that, the interior is solid and intuitive and familiar to BMW drivers. There are a couple of red M buttons on the steering wheel and a red starter, but apart from splashes of carbon and the M badged liberally littered around the cabin, even the steering isn't flat-bottomed, so this is a comfortable and accommodating cabin. You could even just about carry people in the rear and luggage space is 300 litres, increasing to 385 litres when the roof is up.
The M4 convertible remains attractive and potent-looking, suitably endowing its owner and driver with a level of coolness and credibility few other motors can achieve.
But will the driver be happy at the wheel? First let's tackle the ride, as you're probably expecting it to be rigid and ungiving, right? Not true. Yes, it's sports car firm – how firm depends on the settings you choose (of which there are many and one would really need more time and an entire separate feature to figure them all out and analyse). But It's never jarring. There's little roll and pitch thanks to the adaptive M Suspension, but its composure is settled though could get a little harsh on really bouncy and pitted surfaces.
Choosing the M Drivers Package takes off the limiter restricting the top speed to 155mph providing a terminal velocity of 174mph. That's pretty academic on our island. What's more pertinent is 0-62mph acceleration which can be achieved in just 3.7 seconds thanks to 510bhp and 650Nm of torque from a 3.0-litre straight with twin mono-scroll turbochargers. Fuel consumption can extend to a not unreasonable 27.7mpg, and if you must know, emissions are 233g/km of CO2.
Key in the sports exhaust and it sounds fantastic, making entirely appropriate popping and banging noises on flicking the paddles on the 8-speed Steptronic automatic gearchange (there's no manual available). With the roof-down accelerating hard, is an exhilarating, exciting and intoxicating experience.
All-wheel drive of course, keeps the car locked assuredly onto the tarmac, there's no squirming or wriggling, and it infuses its driver with a high level of confidence when tackling corners.
The brakes are linear and well judged, the steering weights up, but remains accurate and responsive, if not the most communicative, and you can scrub off speed into a bend, hit the apex and slam the throttle on the exit with great satisfaction – and mostly without frightening yourself, despite the power.
Overall then, while £83k is a heck of a lot of money, an hour behind the wheel of this car on a nice road with the sun out will convince you that it's a bargain at any price.
BrownCarGuy.com
YouTube.com/BrownCarGuy
Facebook.com/BrownCarGuy
Instagram.com/ShahzadSheikh
Twitter.com/Shahzad_Sheikh