Sports Utility Vehicles or SUV's are very popular, and love them or hate them, they are here to stay. So, this month, Kiran Parmar is road testing the luxury baby SUV from Lexus, the 'UX' self-charging hybrid.
On first glance, the UX is a striking looking vehicle, with sharp, distinctive, futuristic Japanese styling with a hint of 'origami' about it thanks to all its creases and angles, you certainly won't lose this car in the supermarket car park.
Our test car, the range topping 'Takumi' version which costs £41,505 with optional Sonic Titanium special metallic paint (an £820 extra) was fabulously well equipped with LED triple-eye adaptive high beam headlights, blind spot monitors with rear cross traffic alert, heads up display, 10.3" Lexus navigation with full European mapping and DVD, 13-speaker Mark Levinson sound system, smart keyless entry, intelligent park assist, wireless smartphone charging tray, 360-degree panoramic view monitor, heated and power adjustable leather steering wheel, heated and cooled front seats with memory function for three drivers, auto folding door mirrors, power tailgate and electric tilt and slide sunroof.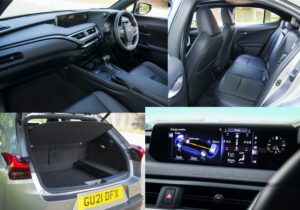 Photos by Kiran Parmar
Interior Styling, Features & Safety
Step inside the UX Takumi and you are greeted with comfortable, supportive seats with beautiful soft leather and a lovely padded three-spoke steering wheel from the Lexus LS flagship saloon. Thanks to the nature of SUV's, you sit high up with a commanding view of the road. It is easy to fine tune your driving position and then 'save' it in the memory function. When you switch off the UX, the steering automatically moves away from you and your seat moves all the way back to make it easier for you to exit the vehicle. The driver's seat gets lumber adjustment also. The dashboard layout is very modern and ergonomically laid out with soft touch buttons and a comfortable centre padded armrest supports your left arm. The 10.3" screen is very sharp and vibrant however the font size on the navigation is a touch on the small side and can be difficult to read. The 'track pad' which you use to navigate the screen is fiddly to use and is not a good idea to attempt to use it on the move. A rotary dial such as BMW's 'idrive' system is easier to get on with. Programming a destination into the navigation is also not particularly easy. Space in the rear is slightly tight and 6ft adults will struggle with head and leg room. The boot is shallow and on the small size due to the hybrid system taking up most of the space. If you select the optional 'E-Four all-wheel drive' system, this eats into the boot space even further.
The automatic dual-zone climate control system with built in humidity sensory however is superb and easy to adjust. The heated and cooled seats make all journeys a pleasant experience no matter what the weather is like. Driving at night is enjoyable also thanks to the beautifully lit interior and powerful headlights make it easy to see where you are going. We especially like the near perfect blind spot monitor system built into the door mirrors which illuminate with an orange symbol if someone is on your blind spot, if this information could be also displayed on the driver's binnacle it would be 100% perfect. The Mark Levinson sound system is fantastic which also accepts CDs for the audio old-school purists in addition to more modern sources such as Bluetooth, USB sticks, Apple Car Play and Android Auto.
All models in the UX range are packed with safety features which include Lexus Safety System+ with Pre-Collision System with pedestrian detection, Adaptive Cruise Control, Lane Keep Assist, Lane Trace Assist, Road Sign Assist and Automatic High Beam/Adaptive High-beam System, and multiple airbags to name just a few.
We also love the 360-degree panoramic view camera system which gives a front, rear, side, and birds eye view when you are executing a parking or slow manoeuvre. When you approach width limiter bollards, the system automatically recognisees you are close to an object and activates the cameras on the door mirrors to give the driver an indication of how much space is either side which is very helpful. One thing to bear in mind is that the UX's doors hang quite low, so use caution if you have parked next to a tall kerb.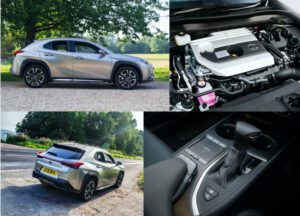 Photos by Kiran Parmar
Ride & Handling, Driving Performance
The UX employs a hybrid system to power it. You have a 4-cylinder, 2.0 litre petrol engine accompanied with an electric front motor that produces 650 volts. A nickel-metal hydride hybrid battery is constantly working in the background, either charging up or supplying power to the electric motor. According to Lexus, you can maximize the UX's potential EV performance with gentle braking, for example when approaching traffic lights, which increases the amount of electric power gained from the cars regenerative braking system.
When you start up, the car is usually in electric mode, put the gearbox in 'D' and it pulls away silently in electric mode and 'creeps' just like a normal automatic car, this sensation can feel strange at first, but it is easy to get used to once you are familiar with it. As you increase speed, the petrol engine cuts in seamlessly and the car behaves like a normal petrol car.
The transmission is an 'E-CVT' system with manual function which is very smooth but can sound slightly strained under acceleration, flick the gear lever to the right and you enter a slightly gimmicky manual mode where you can change 'gears' yourself by notching the lever up and down but they are not really gears as this is a CVT system. The UX offers three driving modes; 'Normal', 'Sport' and 'Eco'; 'Sport' being the most fun, giving you a large red rev counter in the digital display similar to the LFA supercar, but make no mistake, it doesn't turn the UX into a sports car!
The throttle feel is positive and the UX picks up speed rapidly however the engine sound is not particularly sporty in nature. The UX will hit 0-62 mph in 8.5 seconds and reach a top speed of 110 mph. The fuel consumption is impressive with a combined mpg of 50.4 to 53.2. The ride overall is beautifully smooth and relaxing, gliding over speed humps and potholes; only the very worst potholes can be felt in the cabin. At motorway speed there is a quite a bit of road noise, we measured an average of 77 decibels with a maximum of 88 decibels on a particularly bad stretch of motorway meanwhile the UX is quiet and handles wells around town and on country roads. The electric steering is very light and precise however it can leave you feeling a tad numb and uninvolved in the drive. The brakes work well however you sometimes feel as if there is excessive travel on the brake pedal.
The driver's visibility is good but can take some getting used to due to the unique shape and angles of the UX.
Overall, the UX is a very pleasant, comfortable, and soothing vehicle to own and drive and Lexus reliability and build quality are certainly impressive. With 'Lexus Relax,' warranty can be extended up to 10 years/ 100,000 miles by servicing through Lexus Centres. The UX comes with 3-year paintwork warranty, 12-year anti-corrosion and perforation warranty and 3-year Lexus Roadside Assistance. Servicing is due every 10,000 miles/annually. Prices for the UX start at £29,955; visit www.lexus.co.uk to find out more.