Every now and again a new car comes along that creates so many ripples of excitement in the automotive world that we, at Free Car Mag, couldn't wait to find out more about this special vehicle. Allow us to introduce to you, the GR Yaris – a four-wheel drive, road-going sports car that was developed directly from Toyota's championship winning World Rally experience. To build this car, 'Gazoo Racing'- Toyota's motorsport and high-performance division joined forces with the Toyota's World Rally Championship team.
Our test car was the range topping GR-FOUR 'Circuit pack' version which boasts front and rear Torsen limited-slip differentials, red sports callipers, 18" forged alloy wheels with Michelin Pilot Sport 4s tyres and super stiff GR circuit tuned suspension.
LISTEN TO THIS…..
All versions of the GR Yaris come with the same 1.6 litre, ball bearing turbo-charged, three-cylinder engine mated to a manual six-speed gearbox, no automatic version is available. The engine produces 257bhp and 360 Nm of torque which will rocket you from 0-62mph in 5.5 seconds and take you to a top limited speed of 142 mph.
On first glance of the GR Yaris, you notice how aggressive this little car looks. It sits low, almost hugging the ground with its side skirting and its swollen wheel arches give it a seriously sporty look. The wide front grille which incorporates a vertical slat on either side give the impression that the car is gulping in oxygen even whilst it is stationary. The 'Scarlet Flare' pearlescent paint (an £880 option) and weight-saving black forged carbon roof really finishes the car nicely and proudly tells the world that this is no ordinary Yaris.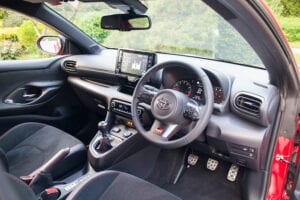 Interior Styling, Features & Safety
The sporty feel continues into the cabin, the 'Ultra suede' sports seats with red stitching are very comfortable and supportive, however there is manual adjustment only and the passenger seat has no height adjuster at all which is not ideal for taller passengers. The space at the rear is quite limited and getting in and out is not particularly easy for tall and broad passengers. The boot is pretty small with just 174 litres of space, however with the rear seats folded you can get your weekly food shopping in easily or if you are planning a track day, there is space for a set of four spare tyres. The steering wheel feels perfect in size but does contain quite a few small buttons which can be accidentally pressed as you are driving. The gear lever sits high up near the steering wheel for fast gear changes. The instrument cluster consists of analogue gauges in black, white, and red with a 4.2" multi-information digital display in the middle that even has a turbo pressure gauge which is a nice touch.
You get Android Auto and Apple Car Play, USB connectivity, Bluetooth and DAB radio service but strangely the navigation maps and parking sensors have been removed on the 'Circuit Pack' version so if you are lost you need to pull over and connect your phone with a USB data cable to launch Android Auto and then Google maps will appear when you press the 'Map' button on the large 8" multimedia centre touch screen. The 6-speaker sound system however offers excellent clarity, and it is easy to find and play your music when you insert your USB stick containing all your favourite albums. The wing mirrors are large and offer good visibility which is good as the rear windscreen is tiny. The reversing camera provides an excellent picture with guidance markers but without the reassuring parking sensor bleep sadly on the 'Circuit Pack' model. However, my biggest irritation is the low rear-view mirror and high centre screen which causes an annoying blind spot right in the centre of the windscreen forcing the driver to duck their head to spot hazards even when the seat is in its lowest position.
The GR Yaris is packed with safety equipment; pre-collision with emergency steering assist, adaptive cruise control, lane trace assist, lane departure alert, road sign assist, adaptive high beam, driver and passenger front and side airbags, 'eCall' emergency call system, tyre pressure warning, and brake assist.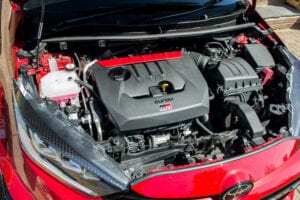 Ride & Handling, Driving Performance
The GR Yaris is a very quick car and exciting to drive thanks to its lightweight and rigid construction. It is highly intelligent also, with the control dial you can choose from three different driving modes. In 'Normal' mode the power is sent 60% to the front wheels and 40% to the rears which gives the feel of a front wheel drive car. In 'Track' mode the power is split 50:50; perfect in snowy winter conditions or on a track day, and in 'Sports' mode; 70% of the power is sent to the rear wheels and 30% to the front which is perfect for twisty country roads. So, the GR Yaris is essentially three cars in one, an amazing piece of engineering from Toyota. In any of the modes, the grip is simply sensational thanks to clever aerodynamics and the GR-FOUR system.
In 1st, 2nd, and 3rd gear, the throttle responds immediately with the lightest touch of the gas pedal. The engine sound is fed into the speakers and whilst some may think that this is a bit of a gimmick, Toyota have put some serious thought into this. The 'Active Noise Control' system uses a microphone to detect noise generated by engine rotation and 'cancelling noise' is calculated by computer and output through the cars audio speakers! As the GR Yaris picks up speed very quickly, the sound increases in volume which provides a good audible warning to the driver that they are reaching the speed limit. The clutch and mechanical gearshift have a very sporty but somewhat aggressive weighted feel about them. Press the 'iMT' (Intelligent Manual Transmission) button and the system offers smoother gear changes. The brake pedal feels firm and offers excellent stopping power for such a light car.
On the downside, there is a fair amount of tyre and road noise, and the ride is very bumpy on rough roads. Potholes can be felt sharply through the cabin. On very rough roads, the bumpiness can be felt through the steering wheel and at 50 to 60 mph plus, the car feels unsettled and bouncy. However, on an ultra-smooth racing circuit the GR Yaris will shine! If you are planning to do a lot of track days, go for the 'Circuit Pack,' if not we recommend the normal GR Yaris or 'Convenience pack' models which have a slightly softer suspension.
The GR Yaris is a masterpiece of engineering and a fine exhibition of Toyota's vast knowledge from the rallying world. Demand is already greater than supply for the GR Yaris and I have no doubt this car will have cult car status in the future! Prices start from £30,020. Visit https://www.toyota.co.uk/world-of-toyota/toyota-gazoo-racing/gr-yaris/ for more details.