Story and pictures by Kiran Parmar
In issue 110 of Free Car Mag, we built a Lego Technic Ferrari Daytona SP3, a fantastic and highly educational model kit. (Read issue 110 here: https://www.freecarmag.com/wp-content/uploads/2022/07/Free-Car-Mag-Issue-110.pdf )
After the build was complete, I got thinking; are there any modifications I could do to make the model even better? How about adding some lights! After a quick search on google I found a company called 'Game of Bricks' who specialise in making custom light kits for a huge range of Lego models. I was astonished to discover that 'Game of Bricks' do four different light kits for my Ferrari Daytona SP3 model – 'Classic,' 'Classic with remote,' 'Standard with remote,' and the range topping 'Standard with remote and sound.'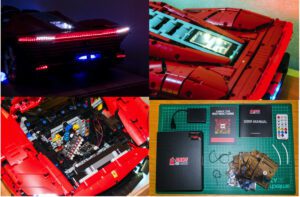 We ordered the flagship model which as the name suggests comes with a little remote control and a little speaker. The package arrived within a few days with regular delivery notifications via email. Inside the jiffy bag you will find a smart looking black box with the 'Game of Bricks' logo on it, upon opening you will find eight little bags with various LED strips, wires, circuit boards, a remote control, a speaker, battery pack and a small instruction booklet with shows you the procedure for connecting each wire to each LED light strip and circuit board. However, on their website you will find a fantastic, easy to understand photo by photo installation guide for the actual Ferrari model.
When I opened the first bag, I was slightly petrified to see how small the wires were. Don't panic, the wires are extremely thin for good camouflage but are in fact aviation grade wires which are not afraid of tension or pressure. However, they are susceptible to shear, so avoid trapping the wires in-between two Lego bricks during the installation. My advice is to take your time and do this project on a clean desk or table with good lighting away from pets or very small children. Tweezers and a bright head torch will be very useful, and you will need your PC, laptop or tablet at hand. Follow the instructions carefully and you won't go wrong.
The kit really brings the Ferrari to life with so many lights. Our kit featured; daytime running lights, normal headlights, an interior 'map' light, engine bay light, normal rear lights, reverse lights, a show stopping strip of brake lights which run around the entire rear spoiler, and even the exhaust lights up. Each brake calliper has a light also which gives the effect that the brake discs are glowing red plus there are some cool blue under chassis lights that give an extra wow factor. All the light strips come with pre-stuck double-sided tape, all you have to do is remove the backing tape and press each light strip firmly to where it is supposed to go.
All the wires terminate neatly into the front luggage compartment where they plug into the main circuit board. The speaker is a nice touch also. I found a sound clip of the actual Ferrari Daytona SP3 which I downloaded as an MP3 which I simply 'dragged and dropped' onto the soundboard via a USB cable. Finally, use a USB power bank to power the whole kit (rather than the AA battery pack) and the Lego Ferrari comes to life. I was surprised how bright the LEDs are, however, you can dim them down to a suitable level. There are two flashing sequence modes which will keep children entertained and if that is not enough you can even select individual lights to illuminate via the remote.
One small issue I discovered was that the interior map light is designed by 'Game of Bricks' to stick to the removable Targa roof, however if you do this you won't be able to remove the roof! I decided I would rather stick the map light to the top of the windscreen frame however the connecting wire that comes from the engine bay light was too short. A quick email to 'Game of Bricks' friendly and helpful email support and a 30cm connecting wire was posted which did the job perfectly.
In conclusion, I was really impressed by this light kit. It really gives you some insight into how a wiring loom works in a real car. Of course, a real car has far more wires, relays, bulbs, fuses, circuit boards and computers but you learn a general idea how automotive lighting works and runs through a car thanks to this smart kit, plus it is great for older children who want to understand basic electronics.
You can purchase the same kit as ours by visiting:
https://gameofbricks.eu/en-gb/products/lego-ferrari-daytona-sp3-42143-light-kit?variant=42993250173181
Prices start at £24.99 for the 'Classic' version and go up to £65.99 for the top of the range 'Standard' with remote control and sound. Visit https://gameofbricks.eu/en-gb to see their full range of light kits.