Audi S3 Saloon Review
This decent looking little Audi executive class saloon has a bit of a wild streak. Note the 'S' ahead of the 3 rather than 'A'. That means it has 310bhp, Quattro all-wheel drive and 0-62mph in under five seconds! Thanks to a turbo 2.0-litre four-cylinder engine that also puts out 295lb ft of torque put to the ground through a 7-speed dual clutch auto. Top speed is limited to 155mph.
Essentially this is the new Volkswagen Golf R but in posh clothes. It starts from £39,000. This generation A3/S3 in both hatchback and saloon guises is the best-looking of the breed so far with aggressive front styling, the muscular flanks and wheel arches working best on this S3 four-door. However you might expect the 'S' to stand out a little more.
With an additional rear clutch system on the haldex all-wheel drive to better split the torque front and rear, it possibly robs the luggage and rear passenger compartment of a little space, certainly the A3 hatchback (previously reviewed on these pages) felt slightly roomier. At the front the dashboard is said to be Lamborghini-inspired (Audi owns the supercar maker) hence the cool vent pods flanking the instrument pod but you yearn for more visual mithai. There's Nappa leather upholstery and sports balti seats.
The ride is very good, despite this car not being fitted with the optional adaptive dampers, though the firmness prevalent confirms its sporty intentions. The steering is light, a little numb, but the turn in is eager with torque vectoring helps it negotiate tight corners with ease, while the quattro all-wheel drive system keeps it planted to the road. All very reassuring when exploiting its considerable performance in wet conditions.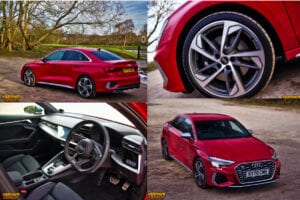 The noise from the quad exhausts is enhanced, and the occasional pops and bangs will be appreciated in the right conditions. Overall this is a more engaging and impressive driving experience, if not quite as thrilling as you might have expected.
On the go, you definitely will feel the dramatic improvement in performance over its lesser 'A' siblings, but you will find yourself questioning whether it's significant enough to pay the premium, because if you're not into fast driving, and value comfort and spec more, spending the extra on a A3 might be a better option for you. Alternatively, if you are more like me, you would probably be keener to sample the RS3 version (previously my second favourite car in the entire Audi lineup!).