Welcome to Free Car Mag's campaign to question the benefits of autonomous cars, or as we prefer to call them, Robot Cars.
Our view is, if you want to get somewhere whilst reading Free Car Mag, sleeping, or having a snack then take a cab, a train, a plane or a Space Hopper. Maybe not a Space Hopper, but that would at least be fun and you would sort of be in control.
We believe there is a long term agenda to get us out of our analogue motors and into something a lot more sinister and mostly digital, Robot Cars. These are vehicles that can do a jolly good job of braking, steering and overtaking. The trouble is that they are not quite there yet and we will be reporting on the worldwide failures.
After all, Sat Nav isn't perfect so it is quite a lot to expect that the self drive systems should not have glitches.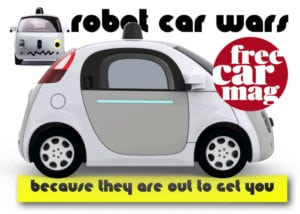 Free Car Mag believe that driving is a skill which should be encouraged. Indeed, drivers should concentrate on the business of steering and stopping rather than taking calls on their mobile.
We are told that the future is connected cars, but this is just another way of selling us things we don't actually need. It is so though crucial to this brave new Robot Car world as they need to be able to chat to each other.
Free Car Mag envisage a future where only self driving cars are allowed on the road. So if you want to drive yourself? Then you will have to pay for a track day. Meanwhile, if you can't afford to have the latest self driving car so that you can go to the shops and visit your mum, robot cars will be taking your job. Lorry, bus, and taxi drivers beware.