We love a '80s classic at Free Car Mag so it is a good job we can hop over to Car & Classic to drool and possibly place a cheeky bid. Here are a couple that took our eye on the site…
1989 BMW 325i (E30) Touring
https://www.carandclassic.com/auctions/1989-bmw-325i-e30-touring-8WGbv8
This example has lived most of its life in Jersey where the highest speed limit is 40mph, let's not forget. It was looked after at the BMW main dealer on the island and therefore has lived the very automotive definition of a sheltered life, although has never been subjected to the rigours of the MOT test as Jersey does not have an equivalent.
This rare 325i Touring was located and brought over to the mainland by the current owner who gave it a thorough servicing to ensure that it would pass its first MOT with no advisories. He was planning to hang onto it as a high days and holidays car with strong investment potential but other priorities have come to bear and so he is now offering it for auction.
So, whether you're a collector who would like to continue to preserve this Bavarian beauty and reap the rewards in future years, someone who wants a stylish and practical classic daily, or somewhere in between, then here's a great opportunity. There surely can't be many left in this original condition and with such low mileage so get your bid in now!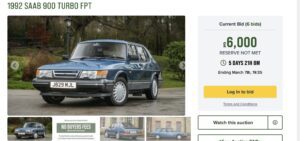 Then there is this magnificent Saab 900 Turbo…
https://www.carandclassic.com/auctions/1992-saab-900-turbo-fpt-4Xbywg
Delivered new to Japan in July 1992 and finished in the attractive combination of Nocturne Blue over dark grey Bridge of Weir leather, this FPT (full-pressure turbo) example of the 900 Turbo is notable not only for its desirable FPT designation – with the boost gauge in the dashboard – but also being a late example of the 4-door Sedan Turbo, as this body style ceased to be available in Europe following the 1987 facelift, making this a very rare example indeed on UK or European roads.
Specified from new with a 3-speed Borg Warner automatic transmission coupled to the B202L engine, this 900 Turbo also benefits from 15" alloy wheels, electric sunroof/windows/mirrors, retains its original stereo, headlight wipers, rear headrests, electrically retracting aerial and its CD multi-changer.
The car was also specified with central locking, cruise control and air-conditioning, though the vendor advises us that the latter two of these are inoperable, and the central locking has an intermittent issue that they hope to address before the sale completes.
Imported personally by the vendor during late 2017, they remain the only UK-registered keeper.
Find out more at…