This isn't my first time reviewing an Alfa Romeo Stelvio. I reviewed both the 510bhp Quadrifoglio and 280bhp 2.0-litre turbocharged four cylinder when they first came out about four years ago. For the latest model year generation, the Stelvio has received a few enhancements. But here's a sage piece of advice: never pass up an opportunity to drive a Stelvio. By the end of this piece, or if you watch my video review, you'll realise why.
So firstly, it's worth reminding ourselves that this SUV is essentially the Giulia saloon on stilts (it's 20cm higher) with a bit more room and 'Q4' all-wheel drive added into the mix. Which in itself is rear-biased, only deploying power to the front when it feels it needs to. It also retains the double wishbone front and multi-link rear suspension setup – in other words, it's sporty. Plus the springs are stiffer to counteract the higher centre of gravity.
There's a 210bhp version of the petrol also available, as well as a couple of diesel options, but don't bother with those. If you can't stretch to the 510bhp Quadrifoglio, the 280bhp version should be your starting point for an SUV that truly warrants performance. To the tune of 0-62mph acceleration in 5.7 seconds – just a decade ago it would have been among the 'Super SUVs' with that figure. There's 295lb ft of torque and an 8-speed quick-shifting transmission. Top speed is 143mph, while combined fuel consumption is 30mpg (I saw up to 28mpg on a long run) and CO2 emissions are 211g/km if you're interested.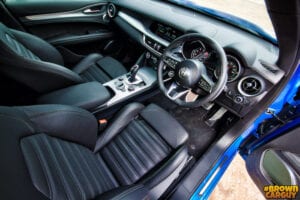 Prices start at just under £50k but with options like the drivers assistance pack, convenience pack and the 8-speaker Harmon Kardon audio fitted to the test car, you can easily see the total add up to around £53k.
It's a distinctive, handsome, dare I say, even sexy SUV – almost as if you're out to make babies in this thing, rather than already having them. But if you did, the ample 525-litre low-lipped boot, ISOFIX child seat anchors, rear bench able to comfortably swallow a couple if not more adults, with twin vents and a pair of USB plugs in the back will accommodate your past and present exploits.
On the outside this thing now has Veloce badges and slick dark 20-inch alloy wheels. But it's inside where Alfa has significantly, but subtly raised its game. Previously its spartan look and trims seemed to fall a little short of the executive-level experience, but now the variety of materials, the enhanced tactile feel and improved touch-screen infotainment brings this more up to the mark. The latter feels more integrated, with configurability and wireless charging. The sound system is great – and we're not just talking engine noise.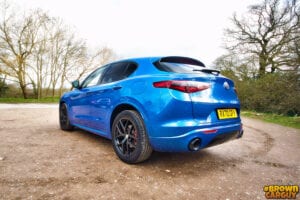 Before we get to that, while previously its low-speed manners were a bit uneven both in terms of ride quality and coping with stop-go traffic, it's more urban-friendly now, with a calmer and more compliant demeanour.
However the steering remains sharper and more responsive than you'd expect from an SUV. So move the DNA driver's mode knob into D and a slight personality change takes place. Open up the engine and it goes from imitating a diesel at idle to true Italian mechanical opera. The performance is eager and accessible, particularly if you switch to using the superbly sculpted Klingon Bat'leth style fixed paddles. They look like they could be lethal weapons, and in the hands of the right driver, they are, with snappy changes and unfaltering and immediate response. The brakes could do with a bit more initial bite, but reassure further along the pedal travel. Most crucially is not only the superglue grip this thing serves up at speed, but the astonishing, and even playful, poise and agility it shows when tackling twisty B-roads.
So it's stylish and settled around town, a competent if less-than-thrifty mile-muncher, and an engaging and enticing let's-just-go-for-a-trash companion. The Stelvio is quite simply one of the most seductive and satisfying SUVs you can buy.
BrownCarGuy.com
YouTube.com/BrownCarGuy
Facebook.com/BrownCarGuy
Instagram.com/ShahzadSheikh
Twitter.com/Shahzad_Sheikh