The current Land Rover Discovery arrived in 2017 and was the first in the lineage not to use old-skool body-on-frame construction. It is now based on the same platform is its more opulent Range Rover and Range Rover Sport siblings. Which of course makes it less Farmer Faisel and more more Sheikh Salman.
Let's be honest; it even looks more like a Rangey now with its sleeker styling, LEDs and slim DRLs, sportier bumpers for the R-Dynamic trim and alloy wheels available in sizes up to a massive 22-inches. Inside there's a new steering wheel for this year with a smaller centre hub, matte-surface spokes with touch-remote controls.
Thankfully they've also replaced the transmission knob for a proper lever you can grasp. It sits on a cleaner emptier centre console that ascends up towards a massive 11.4-inch touchscreen, offering not just the latest Pivi Pro infotainment system you'll also find in the current Jaguars, but a secret hidden compartment.
Despite its more urban-friendly appearance, don't doubt for a minute that this will comprehensively embarrass any SUV short of a Toyota Land Cruiser or Jeep Wrangler when it comes to tackling the rough stuff.
And if you should choose to sully its slick rims by taking it and the brood off-road, you'll find the displays reveal not only what the drivetrain is doing, which diffs are locking and unlocking, but also provide camera views out to the sides and directly upfront and underneath the car, so no surprises and no careering off the edge of a precipice you didn't realise was there. Plus there's a 900mm wading depth, should flooding be a concern.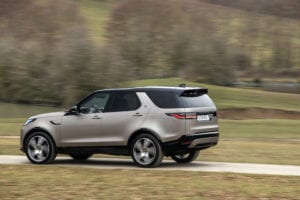 Back on the blacktop, while it may not have any sporty pretentions, and hence not even a 'Sports' mode, it's an able cruiser and hardly a slouch. Even the P300's 2.0-litre four-cylinder 300bhp engine will accelerate from rest to 62mph in 7.3 seconds. The P360 MHEV (mild hybrid) features a 360bhp 3.0-litre straight-six engine that employs a 48-volt electric supercharger system to aid with smoother stop-starts and better acceleration, giving it a 0-100 time of just 6.5 seconds and a top speed of 128mph.
Grip ensures reassuring handling and despite the light steering and floaty ride, you can hurl it about within reason. It's best hauling families though – up to seven adults in fact, who get four-zone climate control and charging points for all.
It's comforting to know that it'll do the all-terrain stuff, even if you don't really want to mess up its streamlined looks, or soil the fine interior upholstery. If you're serious about off-road adventuring consider the aforementioned or of course the original Discovery's spiritual successor – the new Defender. Otherwise this rocks as a family-friendly and rather classy SUV.
BrownCarGuy.com
YouTube.com/BrownCarGuy
Facebook.com/BrownCarGuy
Instagram.com/ShahzadSheikh
Twitter.com/Shahzad_Sheikh