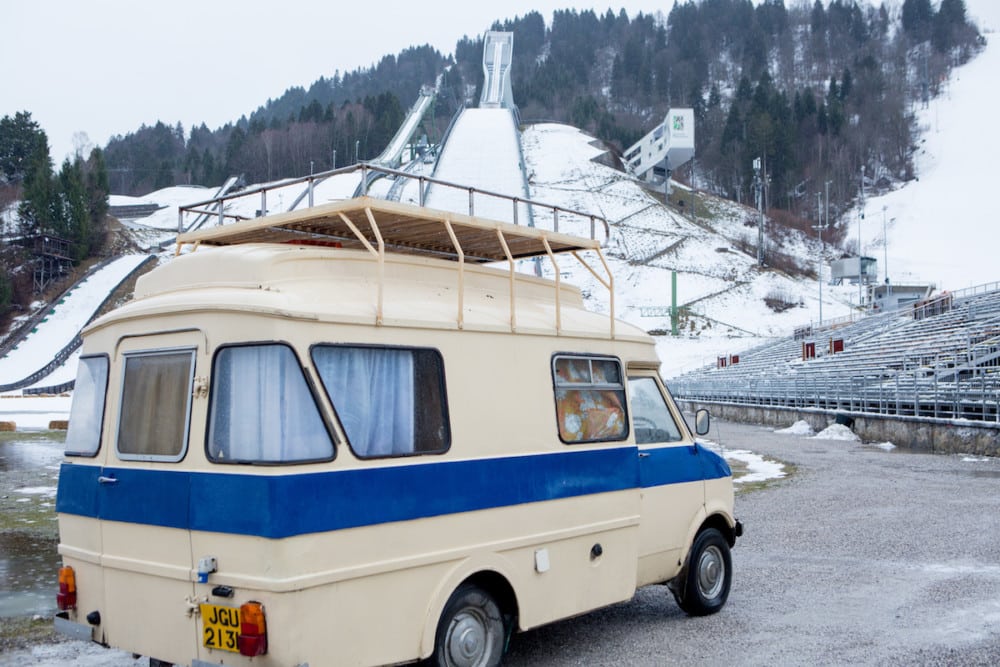 THIS COMPETITION IS NOW CLOSED AND THE WINNER WILL BE ANNOUNCED SOON
Here is your fantastic chance to win Eddie's van from Eddie the Eagle film courtesy of the producers, Lionsgate.
It's the van that Eddie lives in and is strapped to the top of in the film.
PLEASE NOTE THAT WE CANNOT GUARANTEE THAT THE VEHICLE IS IN ROADWORTHY CONDITION. THE WINNER WILL HAVE TO MAKE ARRANGEMENTS TO COLLECT THE VEHICLE AT THEIR OWN COST. THERE IS NO CASH EQUIVALENT OR ALTERNATIVE PRIZE.

Update!
We have just got our hands on the documentation for the fantastic Eddie the Eagle Van giveaway. It has only had four owners and is currently residing at Elstree Studios, where the winner will have to collect it from.
ENTER WIN EDDIE THE EAGLE'S VAN
There are general terms and conditions http://www.freecarmag.com/terms , the specifics for the Eddie the Eagle Van are that this competition runs until April 29th 2016. Entrants must be residents of the UK over 18 years old and based in the UK. There is no cash equivalent. The winner will be picked at random by Lionsgate. The winner must within 14 days arrange collection of the Eddie the Eagle Van. Failure to do this will mean that the van will be auctioned for charity.
Just in case you wondered, this is a Bedford CF van but with a twist. It has a Dormobile Debonair conversion, with body panels made from plastic. A popular way to go camping in '70s and ski-jumping in the '80s.
All you have to do is subscribe to the special Free Car Mag Eddie the Eagle list below and use #WinEddietheEagleVan on social media and answer this qualifying question,
Eddie the Eagle is about?
#SkiJumping
#IceSkating