Vauxhall have recently shown Free Car Mag their GT X Experimental and even let us sit in it. We chatted to the European Vice President of Design, Mark Adams about it and we will have much more in our 2019 issue of Free Car Mag. For the moment here are a few useful bits of information and pictures as a bit of tease.
The Vauxhall GT X Experimental, it is a five-door, all-electric, coupe-style compact SUV, measuring just 4.06m in length. The car bristles with fresh innovation, and is the first physical representation of how Vauxhall's production-vehicle design will evolve in coming years.
SUVs currently represent the fastest-growing sector in the UK's car market (Vauxhall and sister brand, Opel, predict that 40 per cent of the group's European sales will be SUVs by 2021) and Vauxhall is keen to make its models more efficient, and even more accessible than before. For that reason, the GT X Experimental is built on a lightweight architecture with a reduced footprint (length: 4.06m; width: 1.83m; height including antenna: 1.528m).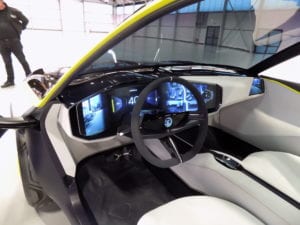 Reflecting Vauxhall's promise of an electrified vehicle in each of its ranges by 2024, the GT X Experimental is a fully electric car with power delivered by a 50kWh, compact next generation lithium-ion battery with inductive charging. And while it doesn't offer fully autonomous driving (Vauxhall's focus is on making innovation accessible in the near-future), it does have Level 3 autonomous driving functions, meaning that it can handle all aspects of driving, but the driver must be able to respond to a request to intervene.
One further highlight to note is the GT X Experimental's wheels, which appear to go down the usual 20-inch-plus concept-car route, but clever design hides the fact that they're 17- inch rims, therefore maximising road comfort.
More details in the January 2019 Free Car Mag