There is an awful lot to be said about the brand new Evoque and barely enough space. There will be more details in first 2019 edition of Free Car Mag, but right now, apart from the fact that prices start at £31,600, here are some pictures and the person who for us summed it all up perfectly.
Mike Cross, Chief Vehicle Engineer, Jaguar Land Rover:
͞"The original Evoque had a very distinctive youthful character. In developing the new Evoque, we wanted to take that character and refine it. It wears a Range Rover badge so needs to deliver serenity and refinement, while still having the joy of driving.
"We are certain that new Evoque delivers on the road.͟Active Driveline is introduced on new Evoque, which is an electronic torque vectoring system that constantly balances the distribution of engine torque across both front and rear axles when cornering to improve grip and steering confidence. Driveline Disconnect fully disengages drive to the rear wheels when cruising to reduce frictional losses and improve fuel economy, before seamlessly re-engaging in a fraction of a second when conditions dictate to ensure no loss in traction.
"The new Evoque raises the bar for all-terrain capability in the compact luxury SUV sector, with a unique blend of inherent off-road ability and enhanced technology to provide traction on all surfaces and in every condition. Ground clearance is 212mm, while approach and departure angles are 25 degrees in the front and 30.6 degrees in the rear. Terrain Response 2 is available as standard for the first time on new Evoque with All-Wheel Drive and automatic transmission. Not only will this allow drivers to choose from four modes (Comfort, Sand, Grass-Gravel-Snow, and Mud & Ruts) to optimise performance and capability, but the new Auto mode enables Evoque to select the most appropriate mode for the conditions and automatically adjust its torque delivery to suit the terrain.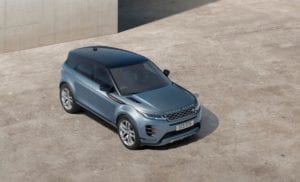 "Evoque's maximum wading depth of 600mm (100mm increase over out-going Evoque) can be effectively monitored with optional Wade Sensing. Ultrasonic sensors in the exterior mirrors accurately measure the depth of the water, which is displayed on the central touchscreen. The latest Evoque will come with a variety of all-terrain technologies such as Hill Descent Control, Gradient Release Control and All-Terrain Progress Control. Allied with features such as the world-first ClearSight Ground View (a realisation of Land Rover's transparent bonnet concept), which grants greater visibility beneath the vehicle when tackling uneven terrain, the latest Range Rover Evoque has all the credentials to go above and beyond.
"There is a reversing camera as standard on all models, alongside a suite of advanced driver assistance systems. This includes Adaptive Cruise Control with Steering Assist, which centres the vehicle in the lane based on road markings as well as maintaining a safe distance from the vehicle in front. Active safety features such as Lane Keep Assist, Emergency Braking and Driver Condition Monitor are all available to keep occupants safe."