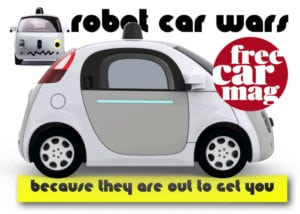 At Free Car Mag we are worried that Robot Cars of the future might try and get us, or at least be very very boring. Anyway a company which has a stake in the future of motoring and where cars should park have given this rather more thought…
yourparkingspace explored some of the emerging technologies that could one day feature on our cars and have created an infographic to show off this technology. We are already starting to see autonomous driving vehicles on our roads and internet connected systems being integrated into vehicles, but what else can we expect?
Car exterior
Biometric vehicle access – You can now access your smartphone with your fingerprint, but cars in the future will allow you to unlock and start your car by using your fingerprint too.
Safety sensors – safety sensors will be placed throughout the vehicle and monitor all aspects of the vehicle's surroundings. Driver override systems will also be implemented which will take control of the vehicle to avoid collisions.
Theft protection – Theft is a big concern to every car owner and there are already systems on the market that can remotely shutdown a vehicle that has been stolen. This technology will be widely used by car manufacturers in the future meaning that vehicle thefts will be widely reduced.
Pre-charged brakes – some high-end vehicles already have systems that pre-charge the brakes to give them more power when the pedal is pressed, but in the future these systems will be more advanced and able to tighten the seat belt and apply the brakes automatically to avoid collisions.
Advanced cameras – advanced 360-degree cameras will help drivers to be aware of their surroundings, while aiding with parking, pulling out of blind junctions and spotting potential hazards.
Electric motors – With battery technology advancing at an exceptional rate, cars of the future will have better range, faster charging capabilities and be lighter than their fossil fuel counterparts. There are already a number of car manufacturers focusing on all electric vehicles, with VW, Audi and Peugeot planning to bring full electric cars to the market by 2020.

Autonomous driving – Driverless cars are the future and will be here much faster than people expect. Whether the vehicle is predominately used for parking manoeuvres, picking you up based on your GPS location or used for fully autonomous journeys, one thing is for sure it'll change the way we drive forever.
Energy storing body panels – It's not as far-fetched as it sounds. Car manufacturers are already testing light weight body panels that can store energy and feed it back to the engine when it needs it. These panels can store energy produced by regenerative braking, during the charging phase or even solar power.
Car interior
Fully connected – In the future most vehicles will be fully connected to the internet, allowing passengers to access all their entertainment needs, just watch out for the pop up adverts.
Interactive heads up display – Window display technology isn't new, but in the future these displays will contain much more information such as traffic patterns, weather and directions. These displays will also be interactive, allowing the driver to display specific information in real-time.
App Central – In-car Wi-Fi will allow passengers to access an array of apps from entertainment and shopping to news and social media. Driving specific apps will also evolve including advanced parking apps, real-time congestion software and notification apps synced to your calendar and contacts for easy access.
Health monitoring – With fitness trackers becoming more popular than ever, car manufacturers are already looking at ways to monitor passenger's health. Specialised vehicle sensors will track all aspects of our lives including fatigue and stress levels and will be capable of predicting infections and heart attacks.