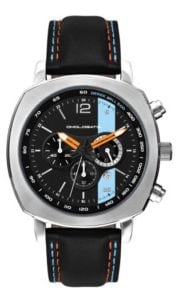 Free Car Mag love Omologato. They make watches at real world prices that are stylish and have great motoring racing stories behind the. The latest addition to their range continues that great tradition with the legend that is Derek Bell. We wlcome the arrival of the limited-edition Derek Bell 500.
Celebrating Bell's remarkable glory at the Le Mans 24 Hours, this striking timepiece honours the Brit's 1975 victory behind the wheel of the iconic Gulf Mirage GR8 – the first of his impressive five race wins.
With a leather strap featuring orange and light blue stitching and a light blue strip running through the 45.5mm face, the famous image of the GR8 is captured perfectly by the Derek Bell 500, which will be in stock from March 2017.
Just 500 watches are available worldwide, each of which is numbered 1 to 500. They also come with a booklet on the history of Le Mans and the life of times of Bell, hand signed by the man himself.
Buyers will have the chance to show off their watches to Bell, too, as the three-time Daytona 24 champion is set to attend special Omologato events later this year.
Whether at the brand's highly acclaimed #ChronosAndCars meets or a drinks evening with Porsche, Bell will be on hand to share the stories that inspired the Derek Bell 500 watch and beyond.
After his triumph in 1975, Bell went on to win the Le Mans 24 Hours in 1981, 1982, 1986 and 1987 – making him the most successful Brit to compete in the race to date.
His inaugural victory is arguably the most famous of them all, however, having spawned one of the best racing partnerships of all time between Bell and Belgian Jacky Ickx. The pair worked together on Bell's next two victories in the early eighties before Ickx's final outing in 1985.
The Derek Bell 500 watch features a Japanese Quartz movement, which operates smoothly and promises quality of manufacturing. It also brings a desirable level of precision, reliability and accuracy that only comes with the very best watches.
Omologato founder Shami Kalra said: "Derek Bell is a true British racing icon, and his achievements at the Le Mans 24 Hours are remarkable. To win the most demanding endurance race of them all five times is something special, and being able to honour the man with this Derek Bell 500 watch is a real honour for me. Signing a deal with Bell was surreal."
The Omologato 917 is strictly limited to 500 examples, and is priced at £299. Pre-orders can be placed on the Omologato website, with deliveries due in March 2017. www.omologatowatches.com