Delphi partner, Nicolas Prost, helps the No. 31 Vaillante Rebellion car secure a first LMP2 World Endurance Championship with fourth win this season.
Delphi Product & Service Solutions' brand ambassador, Nicolas Prost, alongside team mates Bruno Senna and Julien Canal, clinched an inaugural FIA LMP2 World Endurance Championship (WEC) for the Vaillante Rebellion team at the season's finale in Bahrain. Although Prost will not be formally crowned champion, having missed the Nurburgring race because of a clash with the Formula E calendar, he has been instrumental in winning the title and the team has been quick to praise his significant contribution.
"At Delphi, we are equally proud and congratulate Nicolas and the Vaillante Rebellion team on a much deserved WEC title," comments Jean-Francois Bouveyron, vice president, Delphi Product & Service Solutions, EMEA. "Technicalities aside, in our eyes Nicolas is a champion. Endurance racing requires incredible skill, passion, resilience and reliability – all qualities of a true champion, and all qualities which Nicolas has shown in abundance throughout both the World Endurance and Formula E Championships this year. We are honoured to call him a partner."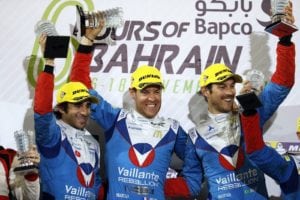 Featuring nine endurance races worldwide, including the infamous 24 hours of Le Mans, the WEC culminated in the Bepco 6 hours of Bahrain on 18th November, where Prost and the team saw out a gripping finale to claim their fourth win of the season, and third in succession.
"The last race, and indeed the whole season went down to the wire," explains Nicolas Prost. "As we lined up on the starting grid, we knew we would have to finish first to win the title. The lead changed hands several times during the evening and after 72 hours of racing this season, just 10 seconds separated us and our closest rivals. It was stressful right up to the checkered flag. I am very proud of what we have accomplished this year. Winning four out of the last five races was a remarkable achievement and capped off a great season. I'm proud to have worn the Delphi colours throughout."