Research from price comparison experts Quotezone.co.uk has uncovered the most dangerous places to own a car in the UK. Their study found that Birmingham reported a colossal 100 vehicle crimes in July 2018 alone. What's worse is that 11% of those happened close to a nearby children's hospital.
Check out all the research right here Quotezone Research
Price comparison experts, Quotezone.co.uk, used national data to analyse the accident and vehicle offences rates for every part of the country, creating a comprehensive map that highlights the country's safest and most dangerous regions for car owners.
The map ranks all 45 UK regions from best to worst according to accidents and vehicle offences.
Top 10 Best Places To Own A Car
In 2016 Lonely Planet named North Wales one of the world's top places to visit and now it has also topped the list of safest places to own a car in the UK. With an overall Car Danger Rate of just 7.29 per 1,000 people, North Wales is the UK's leading safe spot for car owners.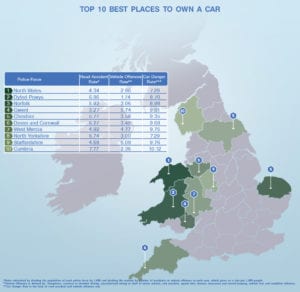 Top 10 Worst Places To Own A Car
Quotezone.co.uk's research found that the City of London is four times more likely to have an accident/offence occur than any other English region.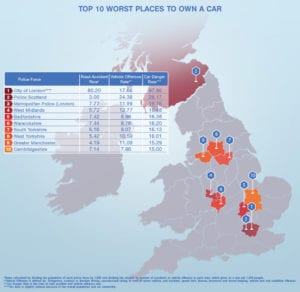 "Our research into accident and vehicle offences in the UK is shocking to say the least," said Greg Wilson, Founder of Quotezone.co.uk. "We found that Birmingham is a hotspot for vehicle crimes with the city reporting 100 vehicle crimes in July 2018 alone, and 11% of these incidents were near a children's hospital.
"Car theft rates are also particularly high at Manchester Airport, where the vehicles are left unattended for long periods of time, with 74 incidents in July.
"This just goes to show how vital it is to safeguard your vehicle and have the right level of insurance in place to save any potential heartache and financial strain in the future."
Quotezone.co.uk's Top Tips To Avoid Car Theft
Keep valuables out of sight – This is may seem obvious to a security-conscious driver, but it's surprising how many car owners don't lock their possessions away. Even things like phone cables and sat-nav mounts can attract the unwanted attention of thieves.
Turn your car wheels into the curb – Some thieves don't limit themselves to stealing valuables you've left in your car (or the car itself) they might also try to steal the wheels right out from under it! By turning your wheels in when you're parking your vehicle you'll make the wheels much harder to steal because they will be locked in the wheel well.Install an anti-theft system – Anti-theft systems are a big deterrent for thieves, and as an added bonus they should also help to lower your car insurance costs.