The perfect way for petrolheads to support the rehabilitation of ex-Forces personnel, charity Mission Motorsport and Warwickshire-based automotive destination Caffeine & Machine have joined forces with the unveiling of a unique donation mechanism – a stunning re-worked engine block created by a beneficiary of the charity.
The new donation block becomes a totem for the collaboration, and a focal point for charitable support at the coffee house, licensed bar, restaurant and living art gallery. The partnership will focus on initiatives which do the right thing by wounded, injured and sick ex-service personnel through a mutual love of caffeine and all things automotive.
Standing pride of place in the main bar area at The Houndshill, the piece of automotive art is an ideal reminder of the in-valuable work that the Forces' Motorsport Charity undertakes, as it aids in the recovery and rehabilitation of those affected by their service.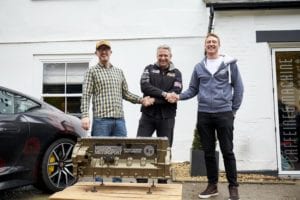 Speaking at the unveiling James Cameron, Mission Motorsport CEO, said: "Our work is in the support of communities – and helping those who have served find fulfilment after the military. We've been inspired by Phil McGovern and Daniel Macken's vision, and have been amazed how much the team have achieved in such a short space of time. This is a place where people come to meet, talk and relate, but it's also inclusive and inspiring – exactly how we approach our work at Mission Motorsport. This partnership formalises and builds on a heartfelt desire to work together. To be the officially supported charity of Caffeine & Machine is an honour."
Phil McGovern, director of Caffeine & Machine, said: 'Our two families have collaborated from the start – and we've been turning acquaintances into mates from that point on. From Mission Motorsport helping Caffeine & Machine optimise their disabled access plans, to Mission Motorsport's livery department playing with project cars, and even James from Speed Steel making the incredible chandeliers in our tipi – it's been less a business proposition and more a friendship. This official tie-up is a natural step forward. The basic ethos of both; we don't care who you are, you are welcome, makes it an easy one."
Over the last 12 months, Caffeine & Machine has established itself as a meeting place of choice for anyone who has a fondness for machines, no matter if it's car, bike or truck: petrol, diesel or even jet powered. Open seven days a week, the autopian destination attracts visitors from across the UK and from Europe, with every cred of vehicle welcome.
The donation block itself is a perfect example of how Mission Motorsport supports. Adapted by former REME Corporal James Webley in his new business, 'Speed Steel' it's been personalised for its new job. The starting point for the project was a TVR Speed Six engine block, kindly donated by TVR specialist Powers Performance in Coventry.
Mission Motorsport – The Forces' Motorsport Charity
The Forces' Motorsport Charity, whose motto is "Race Retrain Recover" is MoD's competent authority for motor sport as a recovery activity, and is a Royal Foundation (the charitable trust of the Duke and Duchess of Cambridge and the Duke and Duchess of Sussex) Endeavour Fund initiative.
A Service Charity and a member of the Confederation of Service Charities, Mission Motorsport has an award-winning collaborative model of working with government and the other service charities. It is funded by service charities as well as by industry partners and independent fundraising.
Working as a partner of the MoD's Career Transition Partnership, the charity helps those leaving the military to find employment in the automotive industry. A City and Guilds and LANTRA training provider, Mission Motorsport's Training Wing delivers Level 3 Diploma courses and full apprenticeships enabling service leavers to bridge the gap between military service and second careers as civilians, beyond injury.
In its seven years of operations, Mission Motorsport has delivered more than 5000 training days of sport for over 2000 wounded, injured or sick beneficiaries, leading to over 400 placements and over 170 jobs. Through working with industry, the Charity's veteran employment programs, under the Mission Automotive banner have paved the way for over 1700 veterans into employment in the Automotive Industry.