Beating a record number of over 100 entries, 'The Misfit', a 1963 Ford Anglia with a supercharged BMW engine, will represent the UK in the global Hot Wheels™ Legends Tour and stake its claim to be a 1:64 scale die-cast in the 2023 line up. 'The Misfit' was also voted the fans' favourite at this year's event.
We spoke to the brilliant 'Misfit' builder Rob Rashbrook and owner Michael Charalambous to find out what makes this vehicle so special.
First of all, this is a Ford Anglia. One of the most popular cars built in Britain in the '50s and '60s which enjoyed a revival in the thriving custom car scene of the 1970s, so it never really went away and Rob has a soft spot for them.
"I've always owned Anglias, when I started driving it was a relatively old car then. Always liked them and American hot rods. So I decided to marry the two together. A traditional American hot rod with a small English car to make what is ,my fourth Anglia build."
Presumably then Rob had a solid car to work on?
"It was literally a shell with its log book, it would have gone to the crusher if I hadn't picked it up for a couple of hundred quid."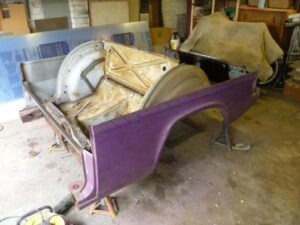 Apparently the front end was missing, but we will come to that. At this point it is clear that Rob is no ordinary tinkerer, he has some considerable skills and by day he is a full time fabricator making disability vehicles. That is a very practical form of customisation and Rob modestly claims there is no artistry to it. In that case what was the thinking behind 'The Misfit'?
"I have been into custom cars since I was a kid and have always built everything low by dropping the suspension. A couple of Anglias ago I did a roof chop on one and that involved quite intricate work on the pillars. I really enjoyed the problem solving aspect with that which inspired me to do this one. The body mods are the most challenging. For instance the rear arches on the car come from an Austin Somerset rear wings welded on inside out."
So there wasn't a lot of Anglia left, indeed the front end was fabricated from scratch and covering the powerplant. "The engine is from an E30 BMW 3 Series. I used to have one as a daily driver and mechanically it was fantastic. I found that engine online for £70, so it was a no brainer really."
Being supercharged this is a seriously quick car, but how does it handle?
Rob quickly puts me straight, "It will go around corners, as the suspension is quite clever. The rear set up is a De Dion, which is unusual on a hot rod, which usually has a simple live axle. There is a BMW differential and a scratch built De Dion axle with BMW hubs. Meanwhile, the front end is a sort of copy of what an AC Cobra would have had originally. When I first built the Anglia it looked very similar but it basically got upgraded underneath. The more I drove it the more I realised that it needed to be changed. Drives really well now apart from the fact that you can't see the traffic lights from the front seats. At least you can get your shopping in it.'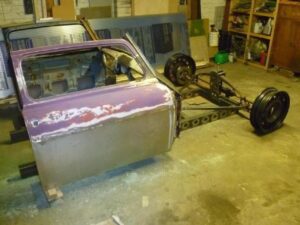 The level of detail and inventiveness is quite astounding and it is all down to Rob. "The only thing I didn't do on that car was the MOT. Did all the chassis work, engine swap, supercharger conversion, Oh yes I had the seats upholstered because I can't sew."
Over now to owner Michael who bought 'The Misfit' two years ago. How did you come to enter the Hot Wheels™ Legends Tour?"I did not realise the competition was coming to the UK, but a lot of people got in contact and told me via Instagram. It does have that Hot Wheels look and I was shocked when it won and amazed that it will be representing the UK."
So did Hot Wheels™ play a big part in your childhood? "Oh man did it ever, now buy my son loads at the shows. I am immensely proud reaching the finals especially the other cars in the final line up that I know from the scene."
So is that it? is Misfit finished is there more to be done? "I've been customising cars for years and they are never ending. There is always features that you can improve on or add to make it different, I will take the engine out to detail it a lot more as a lot of the parts still have the original look, I will make it neater. 'The Misfit' will never be truly done."
Meanwhile Rob is till at it.. "I am doing a Saab 95 at the moment. A 1973 estate version with air suspension and a Volvo engine, I just can't leave anything alone. I like to stick to the old stuff, I prefer simple engineering."
However, 'The Misfit' is far from simple. It is a complex, beautiful and utterly unique work of art in 1:1 scale, just as will be as a 1:64.
Fans can watch the produced episode from the UK event on Car Throttle's YouTube channel. To learn more about the Hot Wheels Legends Tour visit www.hotwheels.mattel.com and follow #HotWheelsLegendsTour.