Free Car Mag is rather partial to a bit of James Nesbitt and the first series was a cracker. This trailer sets it all up very nicely and we even spotted an old school BMW 5 Series that we adore.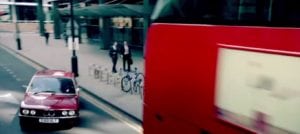 Sky 1's most successful original drama series, Stan Lee's Lucky Man – produced by Carnival Films, the Golden Globe® and Emmy® award-winning producers of Downton Abbey – returns for a second series on 24 February at 9.00pm.
James Nesbitt (The Secret, The Missing) heads up a returning cast that includes Eve Best (Nurse Jackie, The Honourable Woman), Sienna Guillory (Fortitude, High-Rise), Amara Karan (The Night Of, Kidnap and Ransom), Steven Mackintosh (The Halcyon, Luther) and Darren Boyd (Fortitude, Case Sensitive).
Joining series two is Dutch actress Thekla Reuten (Hidden, Restless, The American) as Isabella, a mysterious temptress who has more than a passing interest in DI Harry Clayton and the ancient bracelet that appears to bestow him with good fortune.
James Nesbitt reprises his role as Harry Clayton, the London-based murder detective struggling to come to terms with his gambling addiction and still reluctantly wearing the lucky charm attached to his wrist in series one. With the help of his partner, DS Suri Chohan (Amara Karan), Harry's job is to solve particularly puzzling murder cases – while refusing to use his new-found 'power' to assist him in any way. However, after a chance meeting with the enigmatic Isabella, everything he thought he knew about the bracelet is turned on its head.
Also joining the cast are Conleth Hill (Game of Thrones, That Day We Sang), Jonathan Aris (The Night Manager, Sherlock) and Matthew McNulty (The Musketeers, Black Work).
Richard Fell and Gareth Neame are the executive producers for Carnival Films and Anne Mensah, Head of Drama and Anna Ferguson are the executive producers forSky 1. Stan Lee (Spider¬-Man™, X-Men™, The Fantastic Four™) and producing partner Gill Champion are co-executive producers. Madonna Baptiste is the producer of the second series.
The 10 x 60' crime drama series is based on an original idea by Stan Lee and was made in collaboration with Lee's multi-¬media entertainment company POW! Entertainment.