This stunning brown British classic sportscar looks like it's time-warped in from the 1960s or 70s. Well, it certainly may have originated from that period, but this is essentially a new car, or rather what is popularly known as a 'restomod'.
First, a bit of history: Jensen Motors revived the Interceptor badge (possible the coolest car name in existence) in 1966, employing Carrozzeria Touring of Italy to design the body, resulting in an imposing and forceful front end with an exquisitely rounded rear. For power, it turned around and looked across the Atlantic, importing big block Chrysler V8 engines with up to 330bhp to slot under that bonnet.
The Interceptor was produced until 1976, along the way spawning one of the most technologically sophisticated cars of its generation. The Interceptor FF had antilock brakes (ABS) while Mercedes didn't introduce them until 1978. And while we all believe the Audi Quattro to be the first production 'road car' to offer all-wheel drive – in fact it was the FF edition Interceptor 13 years before the ur-Quattro.
Admittedly only 300 FFs were made, but there was a total of nearly 6500 Interceptors, although only a thousand of those or so are thought to have survived. Jensen International Automotive (JIA), which is not related to the original company, was founded in 2010 and focuses on sourcing and restoring some of those cars. But it goes further, it then makes them better too.
While each of the six cars made in a year are entirely bespoke according to customer specifications, typically JIA rotisserie-restores the bodies, replaces all the ancient electronics with reliable wiring, ditches the live axle and leaf-spring rear suspension for a Jaguar-sourced independent setup, installs AP Racing six-pot calliper brakes with ABS and traction control, and finally swaps out the heavy, prone-to-overheating Mopar motor, for a GM-sourced LS supercharged 6.2-litre V8 as seen in Cadillacs. It includes modern cooling and the current 8-speed automatic.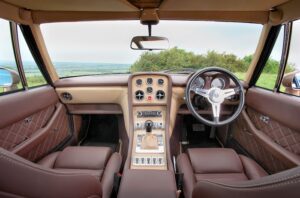 They even do an entirely new dashboard for the car that is in keeping with the style of the original, but bigger and bolder with aluminium switches and an infotainment screen. It does of course have air-conditioning, electric windows and Bluetooth connectivity. Each of these takes 18 months or 3000 man-hours to build, and again can be customised according the client's request.
You can choose between the LS3 or LT4 engines which is to say either 556bhp or an astounding 650bhp for the R (remember this car originally never had more than 330bhp). However, it takes all that torque in its stride, which is a long one. This thing is actually five metres in length, and weighs about 1600kg. Additionally, if you look underneath the chassis boasts massive tubular beams that clearly give this thing the strength and rigidity of a tank. That is further enhanced by the new axle and suspension at the back.
All of which means that while the car does float comfortably on motorways (it was designed to be, and remains, a luxurious grand tourer) hurl it through some bendy bits and it retains extraordinary composure for an old car, not rolling or pitching anywhere near as much as you might have expected. Nor are the brakes found wanting or lacking as they usually are with classics, particularly uprated examples.
Plus, there's the power, find a place to open it up and it goes like Concord and sounds like an American movie. Power isn't pummelling though, but builds gradually and you can deploy it with measured restraint.
It's big and not a car you want to put on the limit on tight B-roads, but nonetheless the performance and ability to devour distances whether in straight lines or winding roads, belies its age and puts it directly in comparison with contemporary big coupes like a Bentley Continental GT. Some rattles, squeaks and wind noise do give away its origins, but it's still better than new.
This is a car that stands out from the crowd, instantly makes its driver more glamourous, is best driven in flared trousers and platform shoes, but demands none of the compromises old cars usually do, being easy and comfortable to drive in modern traffic. And while prices start at £300,000, rest assured that it instantly becomes an appreciating asset. What's not to like here? Give JIA a call and dust off that old brown leather jacket with the wide lapels, it'll go well with this.
BrownCarGuy.com
YouTube.com/BrownCarGuy
Facebook.com/BrownCarGuy
Instagram.com/ShahzadSheikh
Twitter.com/Shahzad_Sheikh