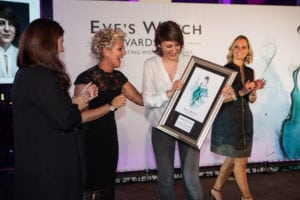 Eve's Watch, the magazine dedicated to educating women about watches, last night hosted the inaugural Eve's Watch Awards. The glamorous event was held on the 24th floor of The Shard and was attended by all the great and good of the watch industry. Jacquie Beltrao, ex-Olympic athlete and Sky News presenter, hosted the awards ceremony, while Elizabeth Doerr, judge and esteemed watch journalist, spoke about the rising importance of women's watches.
There were 13 categories celebrating achievements in women's watchmaking from Best Jewellery Watch and Best Complication to Best Smart Watch and Best Fashion Watch.
The event culminated in Chanel taking home the award for Watch of the Year for its Boy.Friend launch, Bulgari being crowned Brand of the Year, Rolex receiving the Popular Choice award, which was voted for by members of the public via Eve's Watch, Maire Claire, InStyle, woman&home, Livingetc and Country Life and Rebecca Struthers being given the award for Woman of the Year.
Struthers used her award to highlight how far women have come in watchmaking. She said: "While women have been heavily involved in this industry for centuries, before now our participation has largely been hidden behind closed doors and marketing aimed at men buying gifts rather than the independent female shopper.
"It has been a battle, but times are changing. I hope my award will be the first of many honouring a string of brilliant pioneering women in the watch industry. Whether you love wearing them or making them, designing them or want to set up your own business, there has never been a more exciting moment in time for women and watches."
Larissa Trew, who co-founded the event with her sister Jane Trew, Eve's Watch's associate publisher, echoed Struthers's words. She added: "It's been a such a privilege to be able to honour women's place in the world of watches tonight. It is something Jane and I are very passionate about and it is so wonderful to be able to celebrate these achievements surrounded by so many brands, colleagues and friends."
Other winners on the night included Dior for Best Jewellery Watch, Piaget for Best Complication, Patek Philippe for Collectors' Choice, Richard Mille for Best Innovation, Swarovski for Best Fashion Watch, De Grisogono for Best Smart Watch, Nomos for Best Design and Hermès for Best Unisex Watch.
http://www.eveswatch.com/the-winners/