This story by Kiran Parmar is too important to wait for the next issue. It could save lives.
At Free Car Mag we love driving, but we also take road safety seriously. In 2014, I passed my Advanced Driving Test after doing the 'Skill for Life' course with my local IAM Group; East Surrey Branch. Completing this course was one of the best things I have ever done behind the wheel. In Advanced Driver training I was taught to use the 'IPSGA' (Information Position Speed Gear Accelerate) system which enables you to spot hazards before they happen and critically, how to avoid them.
A few weeks ago, my auntie and uncle were involved in an accident on the motorway with a left-hand drive Polish lorry. The incident took place on the M11 between junction 6 and 7 on a busy Monday evening during winter. It was 5:30pm, the sun had gone down, the motorway was unlit and dark. Thankfully it was not raining but it was a very cold January evening. I am pleased to say that my auntie and uncle are both okay and walked away from the incident with no serious or life changing injuries. However, the shock they experienced was a different story and stayed with them for several hours afterwards. My auntie described it as one of the worst feelings she has experienced.
They were driving a modern 2015 BMW X1 (which was awarded a maximum five stars by Euro NCAP at the date of testing) in lane two of the M11. On their left was the lorry, they were moving forward about to pass this HGV (Heavy Goods Vehicle) doing 56 mph. As the passenger side wing mirror of their BMW was in-line with the front of the lorry it started moving into their lane. The front of the lorry clipped the passenger side rear wing of the BMW causing my auntie's car to twist sharply anticlockwise in front of the lorry which was now pushing them forward and all they could do was hold on until the lorry came to a halt. Technically, they had been 'side-swiped.' Actually this was a terrifying crash that left the vehicle in a ditch with the passenger and driver traumatised.
When the car was being dragged by the lorry, my auntie said it felt like the car was going to flip over. My uncle, who was behind the wheel, said he was fighting the steering with all his might to try to keep all four wheels in contact with the tarmac as much as possible. When they had finally stopped, my uncle remembered to press the 'SOS' button which is situated on the headlining of their BMW and within minutes a Highways Maintenance rescue vehicle was on the scene who happened to be on patrol nearby and then moments thereafter the Police were at the location. Despite no airbags being deployed and no glass breakage, the BMW suffered structural damage and was 'written-off'.
The extremely apologetic lorry driver, being on the left-hand side of his cab, had not seen them at all as they were on his blind spot. The Highways Maintenance officer said to my auntie and uncle that this type of incident with European HGV's is very common, and he has seen it multiple times. He also applauded the fact that they had both front and rear dash cams installed which provide vital evidence to the police and insurance company in a post-crash scenario. Interestingly, one week later and around the same time of day on that same piece of motorway another serious collision took place involving a lorry causing a road closure. It does seem that this part of the motorway is an accident black spot due to poor lighting and signage.
In a road safety fact sheet published by ROSPA in March 2021, they said; "The number of left-hand drive HGV's (LHD HGV's) using the UK's roads has increased significantly over the last decade. During the recession period of 2008 to 2009, there was a drop in the total number of goods vehicles travelling to Great Britain, with the majority of this reduction being accounted for by fewer foreign vehicles. However, the number of vehicles has begun to increase again since 2013."
What can we do to protect ourselves when on the motorway? I spoke to Tom Hogg, a highly experienced Advanced Driver and Observer who works in the East Surrey IAM Group. Tom said; "When approaching HGV's on a motorway, look well ahead of them to see if they are closing in on any vehicles in front, they may need to change lanes to overtake. Be prepared to change lanes early to allow them enough space to do so. Give them room, give a lane width if possible when overtaking. Check the company logos and number plates to see if it is likely to be a left-hand drive vehicle. Keep out of their blind spots, ensure they can see you in their mirrors. Do not stay alongside them for any period of time. Always look for an escape route; for example, change lane (if safe), brake hard if required, overtake smartly or drop in behind."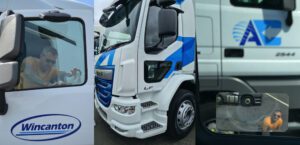 If you are an HGV driver is there anything you can do to spot vehicles in your blind spot? I discovered a company based in Southampton called 'Lens-Tech Co Ltd' who make the 'Hi Vue Fresnel lens.' This ingenious inexpensive product is a simple but highly effective clear, thin, flat plastic lens that is press-fitted to a truck's passenger door window glass and is beneficial for both left and right hand-drive HGV's so the driver can see an extra 30 degree downwards view to spot vulnerable road users in their blind spots. The Fresnel lens is available in two models, PVC and acrylic costing between £8.25 to £10.30 (ex VAT). Trials conducted by DVSA (VOSA) have proven that by fitting Fresnel lenses to vehicles, both the frequency and the severity of sideswipe accidents is reduced. Visit: https://www.lens-tech.com/fresnel-vision-aids/truck-lens/truck-lens/ and follow on Twitter: https://twitter.com/NoBlindspot
In my experience, the best thing that a driver or rider can do is to complete an advanced driving course. Not only will it make you a safer and more competent driver, but it will also take your enjoyment of driving to a new level. Your local IAM group are a friendly bunch of car enthusiasts who love driving and will always be on hand to help you even after you pass your test. Plus, they are always organising fun days out to keep your skills sharp. Learn more by visiting https://www.iamroadsmart.com/courses. Finally, before buying your next car, check how it scores in Euro NCAP's extensive crash testing program, visit https://www.euroncap.com/en
– It might just save your life!
This story with lots more images will appear in Issue 117 of Free Car Mag out at the end of February.