Free Car Mag was sold on The 30th Anniversary The Transformers when we read who was in the Voice Cast of the film, that included, Eric Idle, Judd Nelson, Leonard Nimoy, Robert Stack, and Orson Welles as UNICRON.
In celebration of the film's 30th anniversary, The TRANSFORMERS – THE MOVIE has been meticulously restored and remastered from a spectacular brand-new 4K transfer of the original 35mm film elements. Fans now can immerse themselves in this thrilling animated adventure with stunning picture quality for optimal home entertainment experience. Just look at this before and after restoration image.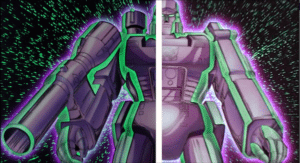 If you don't know the story…The AUTOBOTS, led by the heroic OPTIMUS PRIME, prepare to make a daring attempt to retake their planet from the evil forces of MEGATRON and the DECEPTICONS. Unknown to both sides, a menacing force is heading their way – UNICRON. The only hope of stopping UNICRON lies within the Matrix of Leadership and the AUTOBOT who can rise up and use its power to light their darkest hour. Will the AUTOBOTS be able to save their native planet from destruction or will the DECEPTICONS reign supreme?
TRANSFORMERS – THE MOVIE Limited Edition, 30th Anniversary Steelbook (2-Blu-ray™ set + Digital Copy) comes with a highly collectible Steelbook packaging that features striking key art, all-new HD transfer of the movie in widescreen and full frame on 2 Blu-rays™, immersive bonus content including brand-new featurettes, plus a digital copy of the movie.
Also take Transformers as a warning about what could happen in the future if we are not too careful…