You're thrown, aren't you? At first glance you thought you knew what this car was. Then you looked again and you weren't so sure after. A third glance caught the Suzuki badge, and then you found yourself really perplexed.
'Across' it says on the back. 'Across' what? 'Across' from where? Or is it a 'Across' between two things? Ah. Perhaps we're getting somewhere now. The reason it looks familiar is that this is essentially a Toyota RAV4. The confusion is because a facelifted fascia and obviously the rebadging.
Talking of which, on the face of it, this appears something of a coup for Suzuki. The RAV4 regularly vies with the Honda CR-V as the world's best-selling compact SUV. And possibly Suzuki isn't the only winner here. Surely car-buyers would be too. After all, the assumption would be that a Suzuki badge means a cut-price RAV4.
Rejoice! Grab your bank details and join the stampede for the dealers with the big jagged 'S' badge. Not so fast. Check online and the savings aren't as significant as you might think. Comparisons reveal a difference of a couple of grand at most. And what's more, traditional Suzuki customers will need to be sitting down when the salesman reveals the £45k plus price.
Remember the Suzuki Vitara starts at below £20k, so this is a rather large jump for a Vitara owner wanting to 'upgrade'. Yeah, but the Across has heated front AND rear seats! Plus, a active cruise control. And a bunch of other convenience features, including a great stereo.
More pertinently it's a Plug-In Hybrid (PHEV) vehicle combining electrickery with a 2.5-litre 4-cylinder petrol engine producing 185bhp and 167lb ft of torque. All-wheel drive and 0-62mph performance in 6.0 seconds (thanks to a combined output of 306bhp) are also deeply impressive and desirable attributes – the top speed of 112mph maybe less enticing. Combined fuel consumption of 42.9mpg and just 22g/km CO2 emissions also appeal.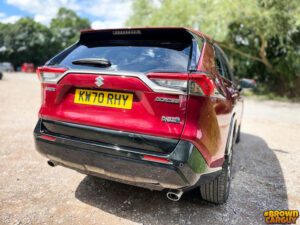 How does it achieve most of that thriftiness and cleanliness? That's the PHEV part of the equation. Plug it in – ideally if you have a home-charger and cheap off-peak electricity – and you can run it for up to 45 miles on electric alone. Which is to say zero consumption and emission. If your daily commute is less than that, you'll hardly ever had to put actual petrol in this, however range anxiety need never be an issue.
It drives exactly as you'd expect… if you were a Toyota owner. Mature, grown-up, sophisticated, solid and refined. It feels like it's built to last, fully loaded with goodies and capable of going where most rival family SUVs fear to tread. In that last bit at least, it share's a similarity with some of Suzuki's own 4×4 vehicles – both the Jimny and Vitara are no pretend off-roaders.
However, Suzuki owners expecting the typical lightness of foot, playfulness of control, and engagement of the drive they might be used to, will either find themselves mightily impressed with the step-up in game, or oddly perturbed by the slight dulling of charisma. What they won't be able to argue with is the comfort, capacity and competency of the Toyota-derived offering.
It remains difficult to justify this particularly Suzuki, especially at this price, but admittedly there is a slight saving on a great vehicle. Unsurprisingly you'd feel compelled to consider the real-deal RAV4 by stumping up a little more though. Alternatively if you're loyal to the Suzuki brand, save nearly £25k and stick with the excellent and unpretentious Vitara.
BrownCarGuy.com
YouTube.com/BrownCarGuy
Facebook.com/BrownCarGuy
Instagram.com/ShahzadSheikh
Twitter.com/Shahzad_Sheikh