Free Car Mag are really big Seiko fans. We will have a feature very soon on some of the office Seikos which have recently been restored over a couple of years, a couple of '80s Quartz classics and a small '70s automatic. Meanwhile, as we wait for them to turn up at our headqurters we have been distracted by these, how about some potential collector items that celebrate a motorcycling icon? We've all had a go on a Super Cub, even if it was a holiday hire in Malaga in 1984, this experience will be much safer. The crown detail is what we adore. If you would like to know what to get us for Christmas or an upcoming birthday, please make it one of these beauties.
The Seiko 5 Sports x Honda Super Cub Limited Edition has been created in collaboration with Honda's world-renowned urban motorbike, Super Cub.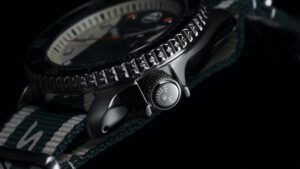 The Honda Super Cub has been in continuous manufacture since 1958 and is the most-produced motorbike in history. This limited edition timepiece takes inspiration from the well-known motorbike with it's eye-catching retro features. The dial emulates the front of the bike with the 12 o'clock marker shaped like the front headlight and the 1 and 11 o'clock indices like the front indicators. The Super Cub logo also appears on the dial as it would be on the historic vehicle.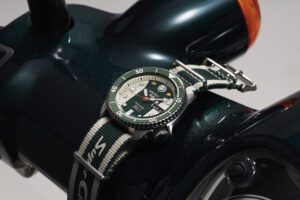 A fuel gauge icon features on the crown, whilst the bezel showcases a speed of 30km/h. The accompanying Nato strap can be worn over the rider's clothing, this is a favoured feature for motorcyclists as they can see the time at a glace whilst maintaining two hands of the vehicle.
The Seiko 5 Sports x Honda Super Cub Limited Edition will be limited to 6,000 pieces of the green model and 5,000 pieces of the black model. Available from 14th October at Seikoboutique.co.uk, £340-£380.